Voice Search Optimization For Website: The Ultimate Guide
Voice search might have started as a small concept; however, it is now one of the most significant topics in the search industry. The ease of searching with voice is second to none, and people cannot get enough of it.  The concept of voice search began with smartphones then rapidly escalated to smart speakers and voice assistants globally. Currently, we are experiencing a voice search revolution, with every generation welcoming voice search with open arms. 
In this blog post we will look at the following:
Definition of Google Voice Search?

How Does Voice Search Work?

The History of Voice Searching Technology

What Is SEO?

How Does Voice Search Differ?

There Is More Than Just Google

Local Search Intent

Conversational Keywords

How To Optimize For Voice Searches

Optimize Your Google My Business Listing

Conduct A Keyword Research

Use Shorter Sentences and Simple Natural Language

Improve Loading Time Of Your Website

Add FAQ Pages To Your Website

Optimize Your Website For SEO

Optimize for Specific Engines/ Search Results

Use Social Media To Your Advantage

Consider All Types Of Audiences

Incorporate Structured Data

Optimize Your Content

Optimize Your Voice By Paying Attention To Mobile

Bonus Pint: Improve Content Readability

Why Is Voice Search Optimization Important In Internet Marketing?

How Is Traditional Different From Voice Search

Definition of Google Voice Search?
Google Voice Search is a function that enables users to search the Web using Google via spoken voice commands instead of tying.  Google Voice Search can be utilized on both mobile searches and desktop. In some cases, users must say 'wake' to tell Google to start analyzing what the user says, and that is ''Ok Google". This can be done through a hands-free voice command on certain operating systems or mobile devices or by clicking and tapping on the microphone icon to the right of the main Google search field.
Rather than how users use and activate voice commands, there is very little difference between a regular typed search query and a spoken voice search. Even near me searches on a desktop will be almost similar to results for a similar query carried out via voice search on an android mobile device. Searchers are taken to a typical search engine results page whether they typed or spoke their query, with a couple of potential exceptions. For example, users searching for directions to a place using a mobile device might see a different Search Engine Results Pages (SERP) than a desktop user searching for the same information. Although voice search queries usually return similar- if not virtually identical- results as typed queries. It is just a lot simpler and more convenient to speak your query instead of typing it.
How Does Voice Search Work?
In simple words, voice search is an organic search method of speaking to a virtual assistant and getting a spoken response.  Typically, when asked a question, the virtual assistant transcribes the human speech into analyzes and text for commands and questions. It then searches for relevant info in its respective external data source and translates the information back to the searcher by either speaking back to them or performing the command. Virtual assistants are accessible on mobile devices, such as in-home devices, Apple's Siri, Google Home, or Amazon Alexa.

The History of Voice Search Technology
Just like Google's most popular services, Google Voice Search was developed in Google Labs, the place where Google engineers can play around with new ideas and technologies, most of which have become popular Google products like Gmail.
Google Voice Search was first established in 2010. Initially, it required users to call a mobile number from their mobile device, after which they were initiated by a recorded message to "Say Your Search Keywords". The user would then say whatever keywords they want to search for, which would then refurbish an open webpage with search results for their query or provide users with a link they could be taken to a search engine results page for their query. Unfortunately, neither the types of results pages Google generated nor the original number is available any longer. 
Evidently, this was not the most elegant solution; however, it did pave the way for radical developments in speech recognition technology that Google used shortly afterward. Typically, in the subsequent years since Google Voice Search was launched, Google started integrating its voice recognition technology into many popular Google products, including Google Maps, which is now its virtual assistant Now, and even the center of its underlying search engine tech.
Presently, Google Voice Search is fully compatible with many applications and products. Moreover, voice search has become an integral part of the Google experience and has even shaped how Google's algorithms manage particular types of queries.
What Is SEO?
SEO comprises numerous strategies that assist your website increase brand awareness and earn more site traffic, revenue, and customers. SEO focuses on targeting your most valuable clients and meeting them where they are already looking- in the search results of search engines such as Google. With SEO, you can attain top rankings for keywords your audience searches online to find businesses like yours. Ranking at the top of search results enables more people to find and contact your business.
When you have useful and informative content to provide and a high-authority website, you will rank higher in search engine results-increasing your chances for users to click on your site. Without SEO, it is harder for people to find your site, and you will miss out on leads. SEO campaigns assist your website content to rank higher; however, with the growing popularity of voice search, it is now vital to apply the same concepts and techniques to voice search marketing.  Voice search marketing is typically the same SEO campaigns you are presently implementing, with a few tweaks to better target clients using voice search.  
How Does Voice Search Differ?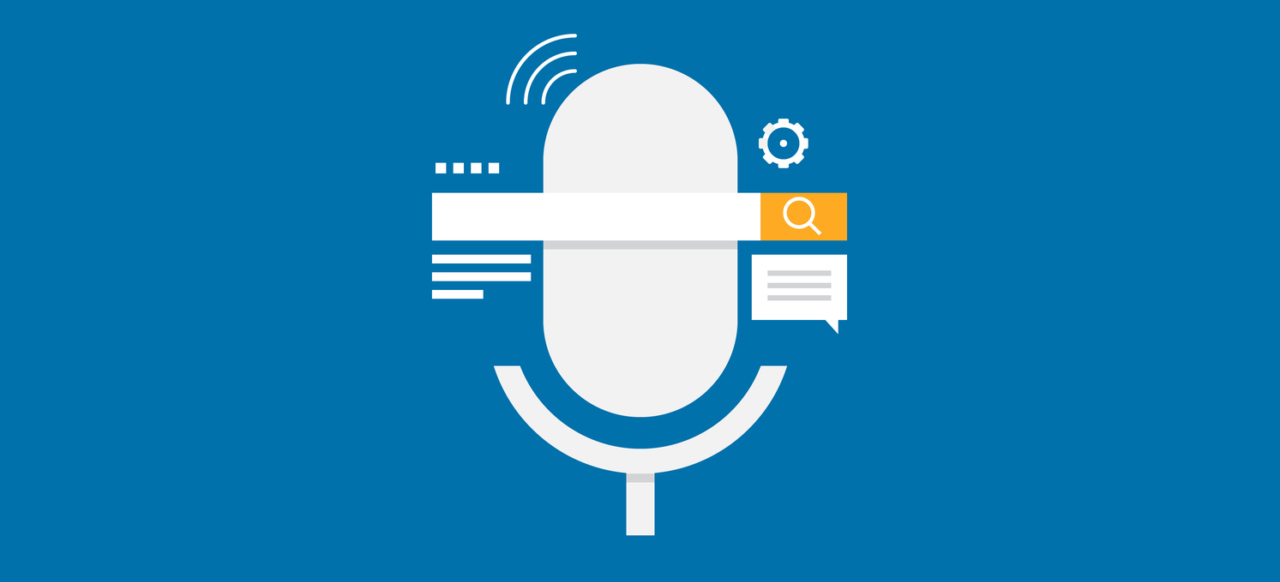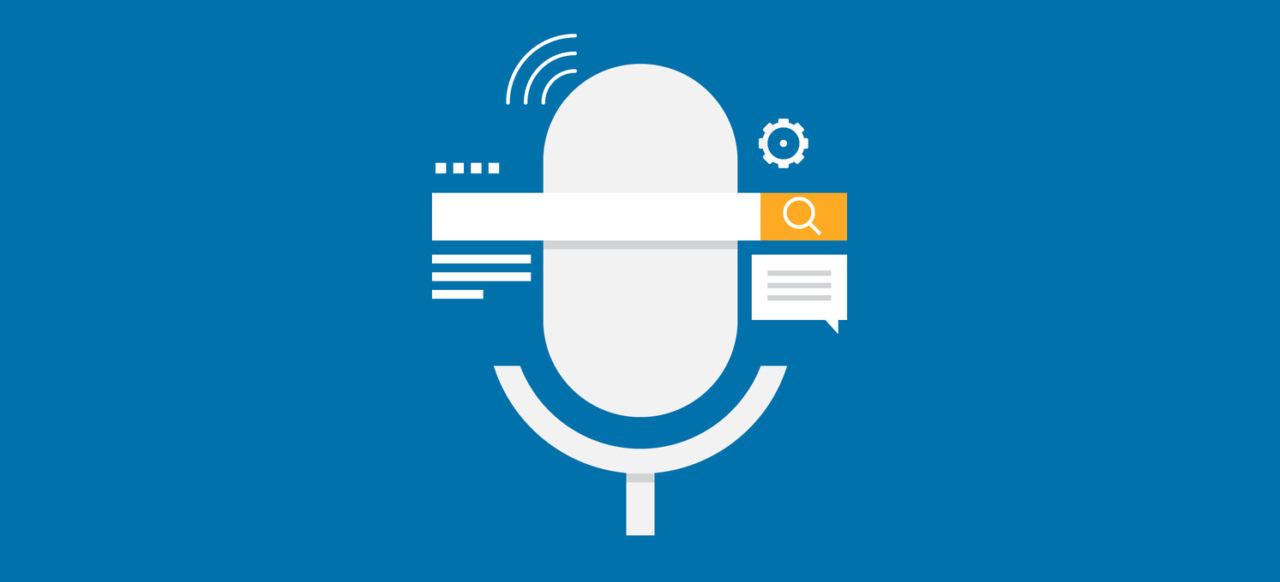 Here are ways that voice search differ:
There Is More Than Just Google 
Google tops all other search engines with a 92% market share when it comes to traditional search methods.However, with voice search, Google is not the only player. When developing their virtual assistant devices, top brands partnered with various search engines. Apple and Google use Google, but Amazon Alexa and Cortana use Bing. Google Assistant and Siri are the most popular for smartphone users, whereas Alexa takes the top slot among smart home devices. Combining Google's powerful search algorithms with its complex natural language processing (NLP) technology is why most people can agree that Google Now is significantly more accurate than Microsoft's Cortana, Apple's Siri, or Amazon's Alexa virtual assistants despite the latter three being similar in function.
Local Search Intent
Many voice assistant users globally have incorporated the technology into their daily routines and use them to carry out basic transactional and informational searches. Typically, voice searches are three times more likely to have local intent, indicating the user is looking for a local business or nearby business. Without optimizing your website to be found through voice search, you might be missing out on a large group of potential buyers. 
There are many reasons mobile users use voice search:
Find local business

Find forecast

Online search

Product information

Ask directions

Ask fun questions

Play music

Make a call
For local businesses, voice search optimization is incredibly useful. Since voice searches are locally focused, it is essential to keep business information optimized and accurate.
Conversational Keywords
Voice searching is different from traditional search methods in that users tend to have a conversation with the virtual assistant. For instance, think about what you would type into a search bar if you were looking for an apple pie recipe.
You might type:
"Apple pie from scratch"

"Apple pie recipe"
With voice search, a user would probably ask a question like, " Hey Google, how do I prepare apple pie from scratch at home?" As you can tell, the voice search query is much longer than the typed search query. This is popular for voice searches.
How To Optimize For Voice Searches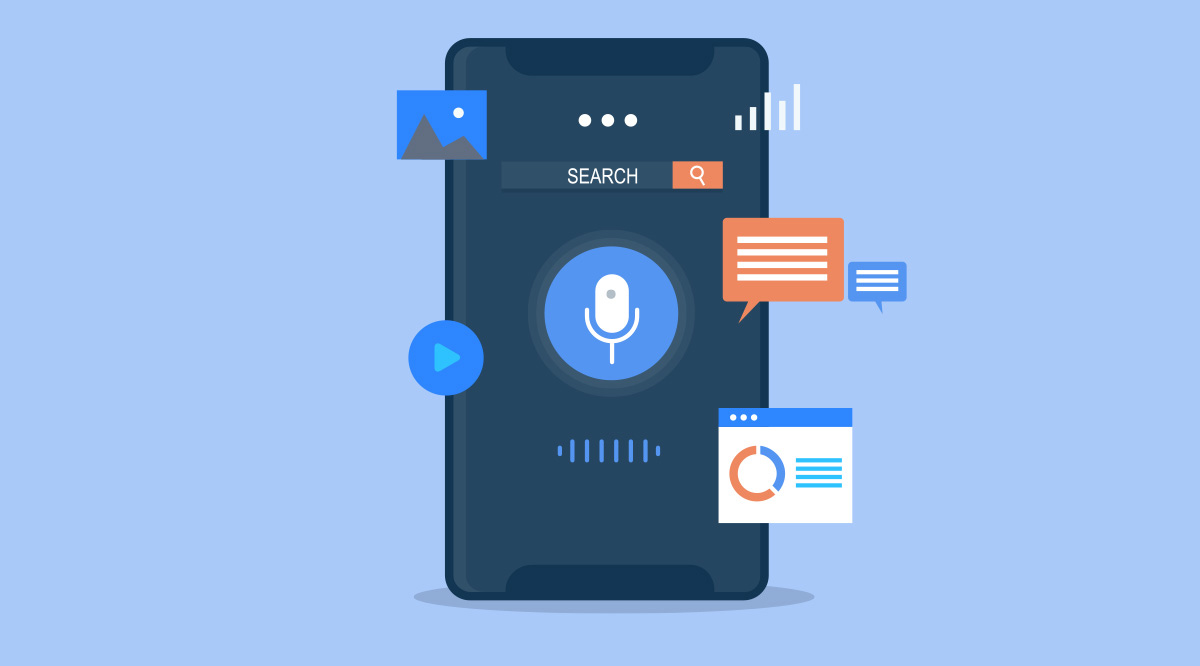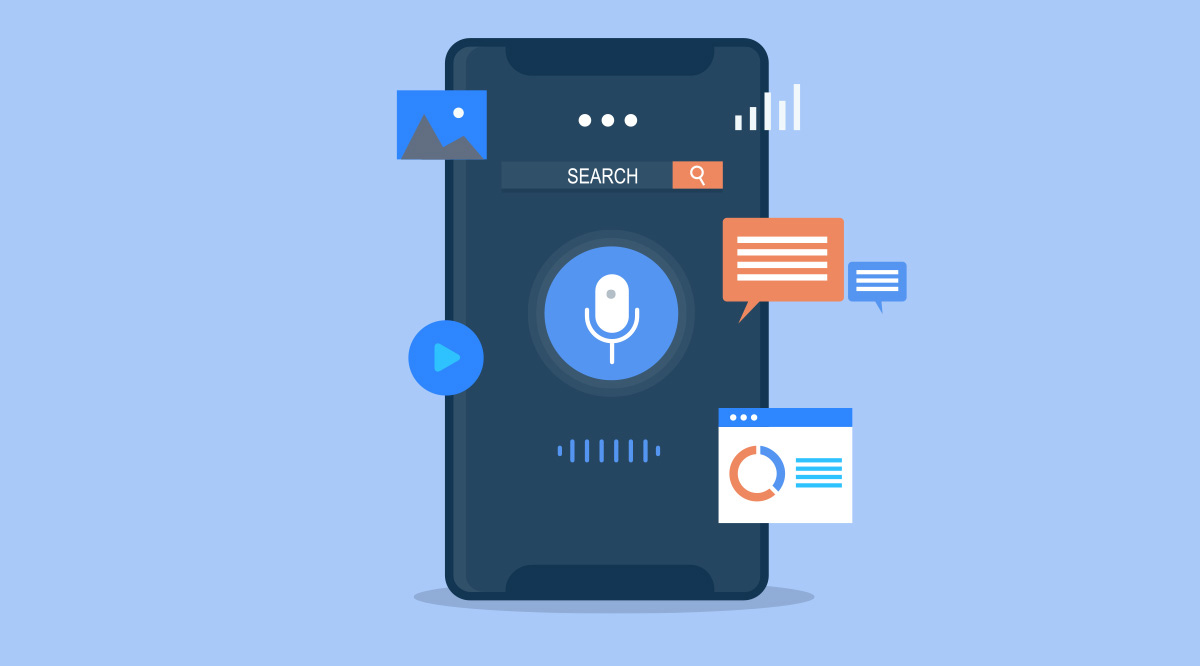 Some of the best methods of creating a voice search-optimized website

Optimize Your Google My Business Listings
When searching for data about local businesses, virtual assistants turn to Google My Business (GMB) listings. Your GMB listing comprises important business information like your phone number (also known as your NAP info), address, and your name. You can also incorporate extra information like your website URL, a description, business hours, and other contact information, and more. Note that not all virtual assistant devices use the same search engine to gather their information. Google devices deploy Google, but others use Bing or Yelp. Make sure you can also optimize for their local listing features.
For example, if a user tells a voice search engine " give me direction to point A," it will use their current location to get the closest point A available via its listing information. It is essential to make sure your listings contain the correct information. Many people deploy voice search when their hands are otherwise occupied (for instance, driving), so if the address is not correct, the user may end up in the wrong place and thus a poor experience with the company. 

Conduct A Keyword Research and Include Long-tail Keywords
Researching relevant keywords is essential for voice search optimization; however, bear in mind that online users will be speaking instead of typing. This indicates they will use a long string of words, so you have to include long-tail keywords instead of short ones. Longtail keywords are just what the word indicates- search terms that are longer than the typical search query. Opting to use long-tail keywords can help in optimizing your site for the featured snippets. Voice assistants are more concentrated in directing the user towards the best suitable action or product instead of offering them a list option.
Use Shorter Sentences and Simple Natural Language
Your target audience asks questions in simple natural words, in which the voice assistant will base the search results. The shorter the answer is, the higher the chance users are to read it first. If they are satisfied with the answer, they might even open your website to explore further.  Thus, you should focus on offering valuable information in short, simple words to boost your website's traffic organically. 

Improve Loading Time Of Your Website
Despite being such a vital factor for voice search, this usually goes unnoticed. But that does not reduce its significance a bit.  Websites that take longer to load are abandoned very fast compared to those that load fast. Websites loading speed directly impact bounce rate and, thus, should be optimized at all costs.  In addition, Google released its Speed Update, which stresses optimizing website load times. When it comes to voice searches, the principles are the same. Voice searchers require immediate results, and if you have a slow website that takes a lot of time to load, your content will not be used to answer verbal queries. 
Below is a checklist of the don'ts and do's for good website loading speeds: 
Use a Content Delivery Network (CDN).

Lower redirects and the number of plugins you use

Minify JavaScripts and Stylesheets and reduce HTTP requests

It is commendable to use HTML5 and CSS3 frameworks, given that they load mobile web pages faster

Use 'defer' and 'async' to lower JavaScript parsing

Use compressed videos and images on your site
All in all, slow page loading speeds can impact both your website's bounce conversion rates and bounce rates. It follows thus that if you want your WordPress site to rank higher in voice search, you need it to load rapidly. Pingdom and Google Page Speed Insights are good websites speed test tools; eCommerce businesses and marketers can use these to optimize their site load times.

Optimize Your Website For SEO
Optimizing your website for SEO will ensure your website is working exactly as hard as it should. If you have good SEO, you can generate more traffic and get more opportunities to convert potential customers. 
And a website optimized for conversions has better metrics, like bounce rate and time on page, which indicates that Google might rank higher. Typically voice searchers focus mostly on finding a service or a product nearby. Thus, you should make sure the keywords you use are local and provide solutions accordingly. There are specific voice search SEO strategies your company can utilize to improve your voice search readiness. From incorporating keyword phrases that better suit voice search queries to nailing down exactly how to approach local SEO, these changes to your present content marketing and digital marketing strategy can bring the results you want- and get you into that 4-percent. Here are more steps you can use to optimize your website for SEO:
Analyze all your website data

Conduct thorough keyword research

Produce long and value-rich content

Optimize for offpage SEO strategy

Optimize for onpage SEO

Add An FAQ Page To Your Website
In most situations, users will generally ask their voice search tool a question, so you need to create a page specifically to answer your target audience most frequently. Think of the typical queries your potential clients might have concerning your services or products or general questions relating to your niche. Ensure you include them all on this page so that the voice assistant can use your information to answer the public question.

Optimize for Specific Engines/ Search Results
Voice search is usually a screenless interaction, which indicates the user might never see a physical search result; they will only hear the answer or options played back to them. Thus, if you want a user to learn about your company, get directions, or call you, your website and Google My Business listing have to be accurate and optimized. 
Optimizing for voice search indicates optimizing for rich results. According to research conducted by SEMrush on voice search answers, 70-percent of all answers returned from voice searches occupied a SERP feature. Rich results are usually referred to as "Position0" since they appear at the very top of the search result page. To provide the best user experience, Google mostly shows rich answers to users' questions, and there has been a substantial increase in these over the years.
Typically featured snippets aim to answer informational questions right in the search results, eliminating the need to click into a site. Voice search takes it a step further and speaks the featured snippet result to the user.  Typically, voice search usage is predicted to keep on growing year over year, and the reasons people use voice assistants make it simple to understand the appeal. Whereas there is no surefire way to get your content in a Featured Snippet, the way that you format your content your chances:
Keep your answers short 

Check out the People also ask and related searches in Google search results for good Featured Snippet keyword ideas

Use formatting that is conducive to the question- such as a list for questions about instructions for how to do something.

Focus on question keywords in your post (and answering those questions)

Incorporate Structured Data
With a focus on semantic search, using structured data on the pages of your website will assist search engines to understand your content more clearly. Together with high-quality and relevance, structured data is also helpful in claiming rich functionalities, which are popular results for voice searches. 36.4-percent of voice search results came from pages that utilize structured data markup. 
Speakable markup was specifically designed for voice search answers. It enables you to identify parts of your content that are written well for audio playbacks, such as text-to-speech (TTS). Deploying this schema markup enables Google to quickly identify content to playback to the user that will sound natural.

Use Social Media To Your Advantage
Make sure you use social media to your advantage. Google and other search engines pull information from social channels. Get reviews on Facebook, share videos on YouTube, and get active on other social media networks.
Consider All Types Of Audiences
As you optimize your website for voice search, you want to bear in mind all kinds of people and audiences who are using voice search in the first place. We can not talk about voice search without talking about the Americans with Disabilities Act (ADA) standard. ADA compliance indicates that websites and their design must be accessible to people with disabilities. 
Optimizing for voice search assists your website to become more ADA compliant because of the wide range of people who are able to utilize the voice search functionality. Other ways to boost your site for voice search include: adding alt text for videos and images, which will also help improve voice search. Using a clear heading structure makes it simpler for voice search users and search engines with disabilities to understand what your page comprises.

Optimize Content for Voice Search
Content is the most significant part of voice search optimization. Voice search queries have a tendency to be phrased as requests or questions, and the average length of voice searches is typically 29 words, so your content strategy should involve a focus on long-tail keywords. To get long-tail keywords that are framed as questions, you can turn to a suite known as Answer The Public. The website allows you to enter a keyword into the search bar, and it will offer a list of recommended questions related to the keyword. 

Optimize Your Voice By Paying Attention To Mobile
Generally, all the big announcements at Google I/O 2019 were directly related to mobile tools. Google emphasizes vows and mobile experience to make it better every day. When it comes to voice search queries, mobile easily beats other devices since most verbal questions are being asked on mobile. As such, you should be well prepared to deliver an amazing mobile user experience. 
Developing mobile-friendly content with a mobile-first approach is key, and we have to pay heed to some ways to attain that: 
Your site should be crawlable to ensure exposure and visibility to your content

Run a mobile-friendly test for your site and optimize accordingly

Build a mobile-responsive website
Mobile in the future of search, and that incorporates vocal queries as well. Being ready with a mobile responsive site is an SEO best practice that should not be ignored. 
Bonus Point: Improve Content Readability
Writing good, readable content is an essential must; however, we still overlook this somehow. Precise writing with a standard reading level assists in ranking content. A ranking around eight on the Flesch Kincaid Grade is commendable as per a voice search study, and you should at least aim for that.
Why Is Voice Search Optimization Important In Digital Marketing?
Why Voice Search SEO Matters To Content Marketers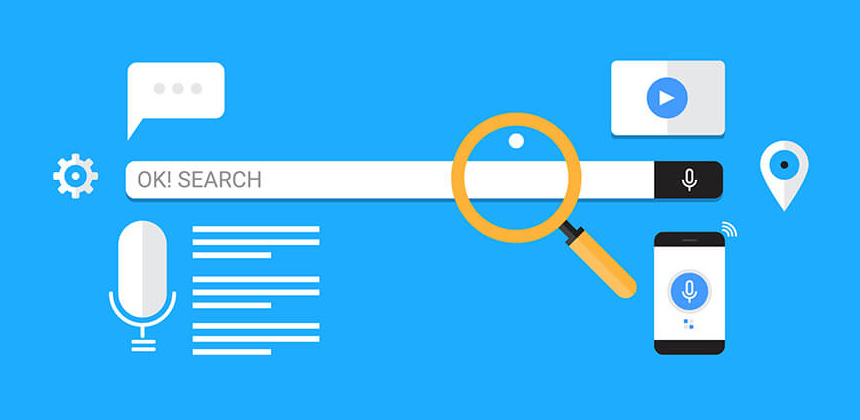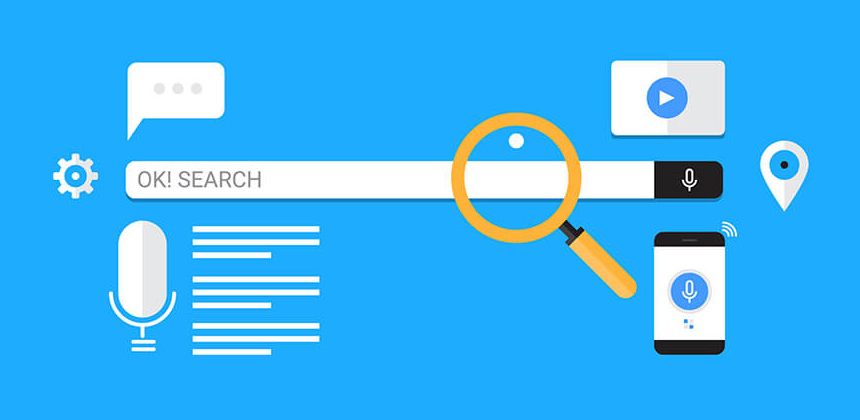 Optimizing your site for voice search should be on your list of priorities. Whereas Google has always been the most preferred text search engine, its fame grew with the introduction of voice search.
Here are some of the reasons why marketers use voice search optimization:
Voice search is easier and faster: Voice search is more rapid than traditional methods of searching for a query; this is why people quickly adopt it.

Voice search is more convenient and appropriate: In the digital world, where time is money, no one likes to type their questions. When the answer is only a sentence away, people tend to opt for the simpler path. If we had to choose between typing a question and speaking a query, we most likely choose the latter option for obvious reasons.

Voice search is apt for mobile: It is possibly the main reason for voice search being so famous and viral amongst many people today. Smartphones paved the way for search assistants, and smart speakers since users on mobile leverage voice search the most.
How Is Traditional Different From Voice Search
Asking a device to get results for your query is not the same as typing a query on your desktop. Searching with your voice is different from traditional search:
| | |
| --- | --- |
| Voice Search | Traditional Search |
| Voice search occurs when people speak into their devices and phones, and an application searches for the words they spoke. Voice tends to focus on searching traditionally, sometimes making a keyword focus less critical in search. Deploying voice search could possibly cause completely different sites to rank than if a user searched the conventional way. | Regular search is that regular search requires the user to actually type in the search terms with their device pen and fingers. Traditional search and search engine optimization focuses on keyword terms and how your WordPress website ranks for them. |
Conclusion
If you have made it this far, you have what you need to to start making your site voice search accessible and friendly for all. Generally, there are still a lot of unknowns when it comes to the future of voice search. But one almost certain thing is that voice search will become more responsive, accurate, and intelligent and more prominent in verticals such as the consumer electronics market. Even though this unreliability is never a welcome risk factor for marketers, it is also an incredibly exciting time to be digital.