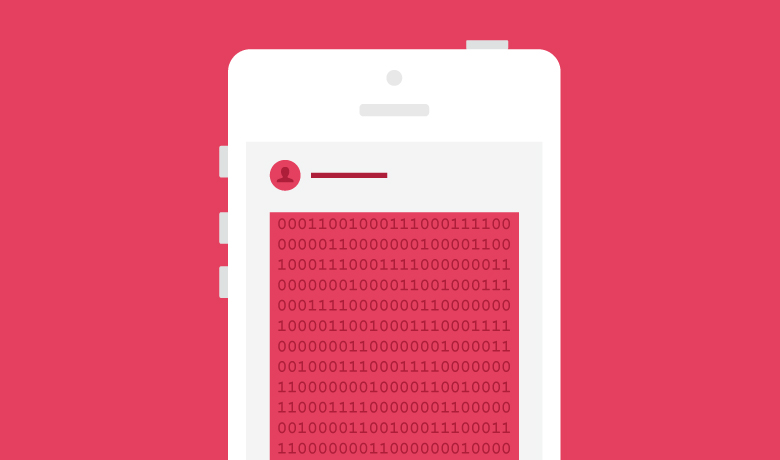 If you want to have a killer Instagram strategy, you need to know all the ins and outs of the platform. Dig into our Instagram hacks to make sure you know how to use each aspect of the app, from creating an enticing bio to copywriting engaging captions.
We've broken these Instagram hacks down into categories so you can easily find the sections you need the most help with.
General Instagram hacks
1. Get post notifications from your favorite accounts
Is there an Instagram account you love? Or a feed you want to keep an eye on for inspiration? Turn on Post Notifications for specific accounts so you receive push notifications when they post new content.
Head over to the Instagram Profile you want to stay up to date with, tap the Following button, tap Notifications, then choose if you want to receive notifications for new posts, Stories, IGTV videos or live videos.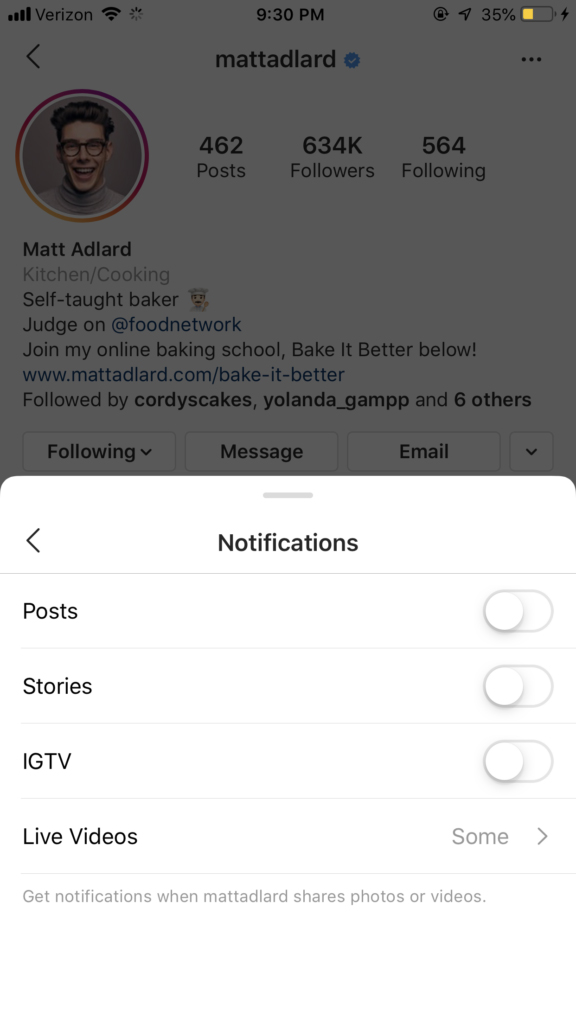 2. Save your favorite posts
Instagram allows you to create Collections and save photos that you love. Whether you're scrolling through your feed, the Explore page or a specific account, if you find a photo you want to keep for later, simply tap the bookmark icon on the right side directly underneath the photo.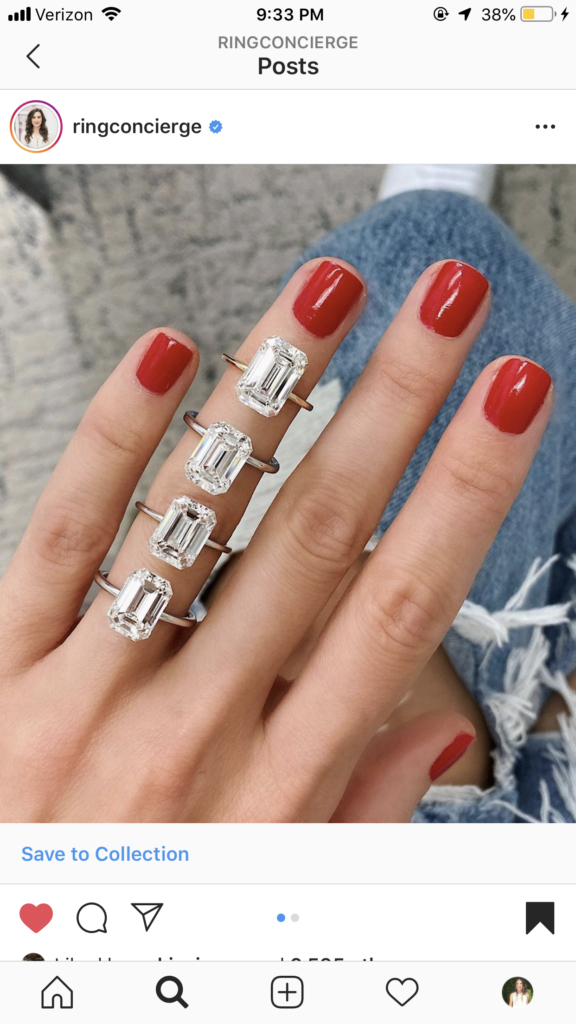 You can even organize your saved posts into various Collections by going to your profile, tapping the hamburger menu, then tapping Saved. Organize similar images based on your interests for simpler reviewing at a later time
3. Monitor how much time you've spent on Instagram
Keep an eye on your social media scrolling and screen time in the Instagram app. From your profile, tap the hamburger menu and select Your Activity to find out how much time you've spent ton Instagram each day.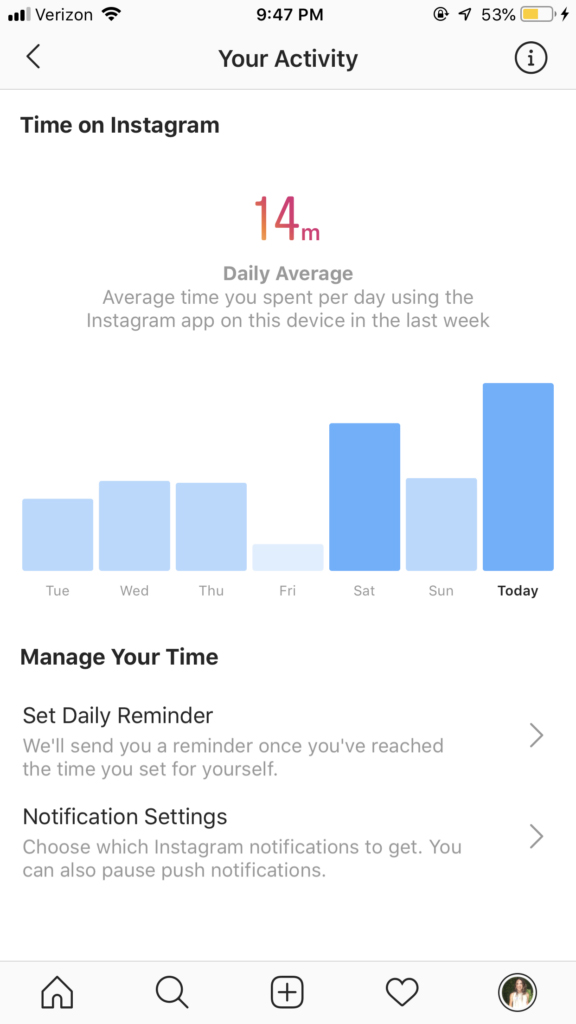 4. Limit your scrolling time
In the exact same area, you can tap Set Daily Reminder and set a time limit for how long you want to allow yourself to spend on Instagram each day. The app will then send you a reminder when your allotted time is up.
5. See your Liked posts
Want to take a trip back down memory lane? Head over to your profile and tap the hamburger menu. Then go to your Settings > Account > Posts You've Liked.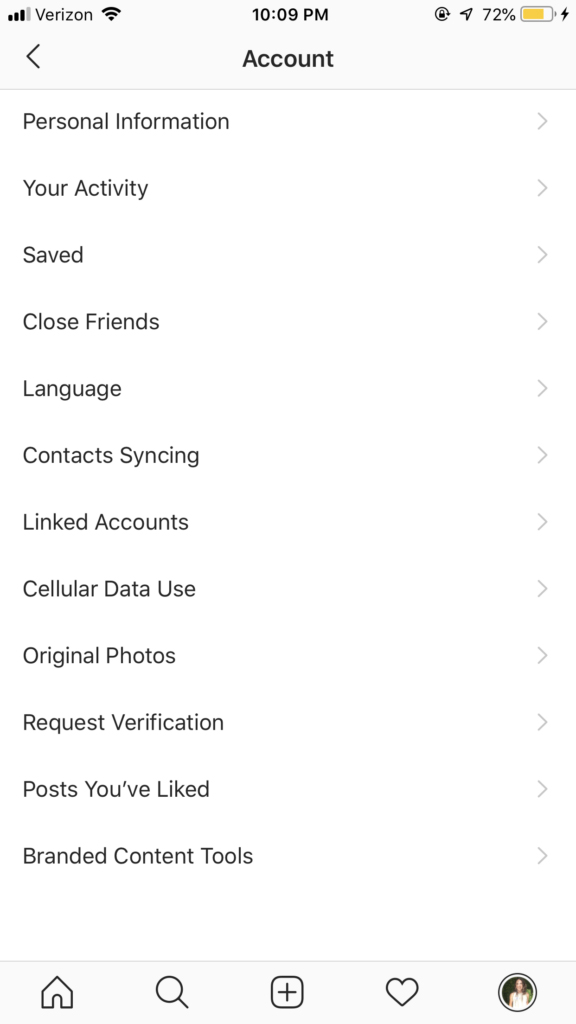 6. Manage multiple accounts from one device
Instagram allows you to log in and manage up to five accounts from a single device, which is incredibly helpful for social media managers.
Simply go to your profile, go to Settings, then scroll down to the bottom to click Add Account. You'll be taken to the login page to add another account to your device.
Then you can navigate between the various profiles by holding down on the profile tab in the bottom right corner until each account option appears.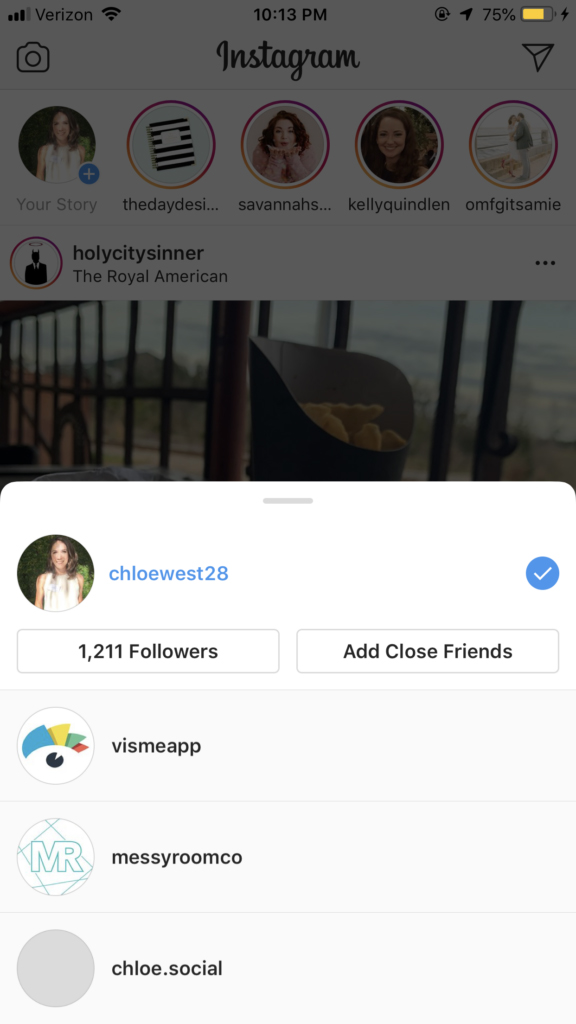 Perfect your Instagram grid with tools from Sprout Social

Keep the look of your brand's Instagram consistent by managing your media in Sprout's asset library.

Store approved images that fit your campaigns' theme and style so that any team member always has access to the content they need.

Test out the asset library and all of our other essential Instagram features with a 30-day free trial.
Instagram hacks for your bio
7. Add line breaks to your bio
Use separate lines to explain what your brand does in your Instagram bio. But, Instagram doesn't necessarily make this easy for you.
Instead of creating line breaks in the app, simply open up the Notes app on your phone and type your bio in there, line breaks and all. Copy your bio from your Notes app and paste it into your profile on Instagram.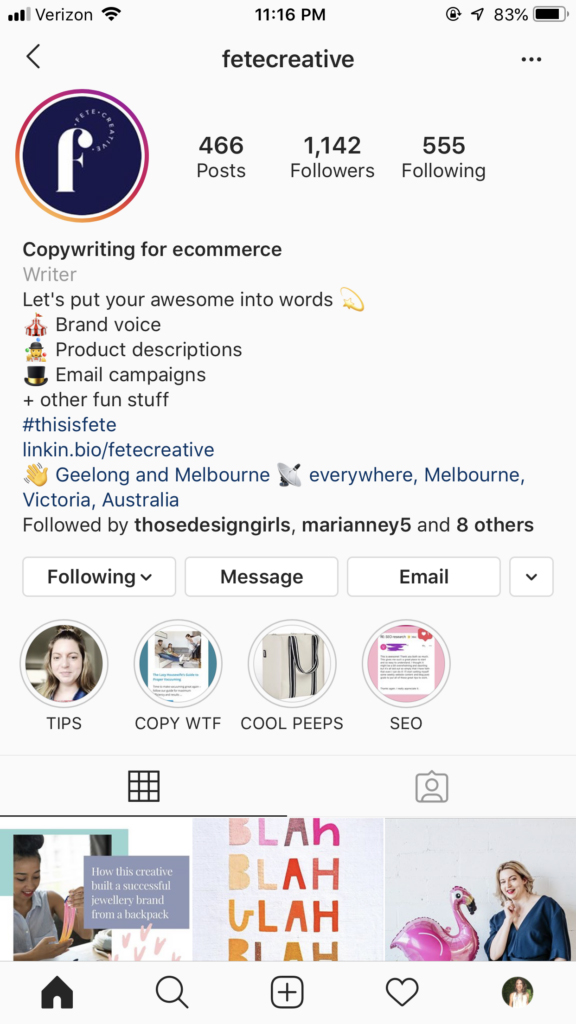 8. Tag other profiles in your bio
If you tag profiles in your bio, they're automatically clickable. This gives you the perfect opportunity to promote your other accounts on the app.
Use this as an opportunity to tag your company handle in your personal bio or tag sister companies directly in your brand bio.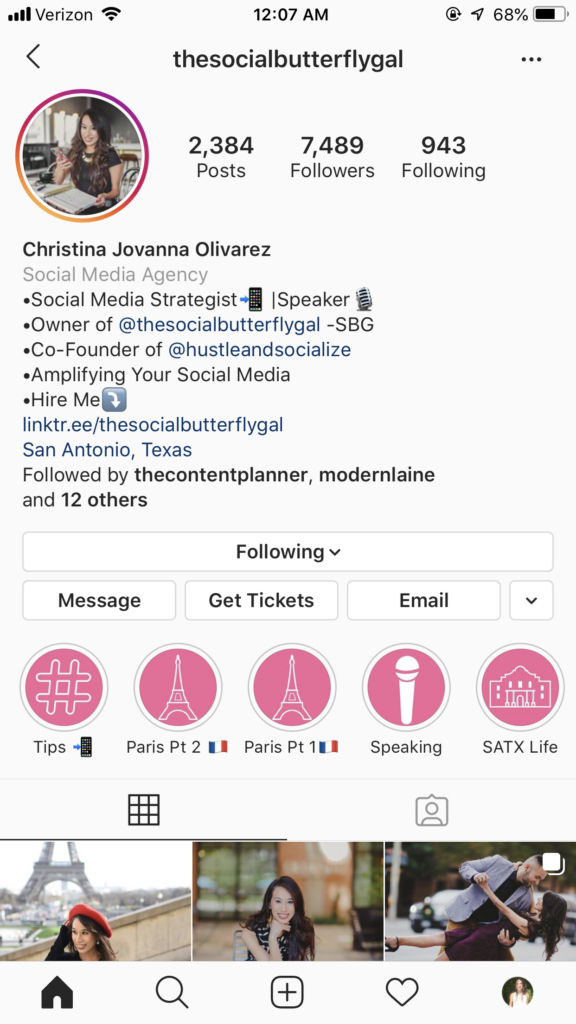 9. Include hashtags
Just as you can link to other profiles in your bio, you can also include hashtags. This is a great way to promote any branded hashtags your company may use for user-generated content.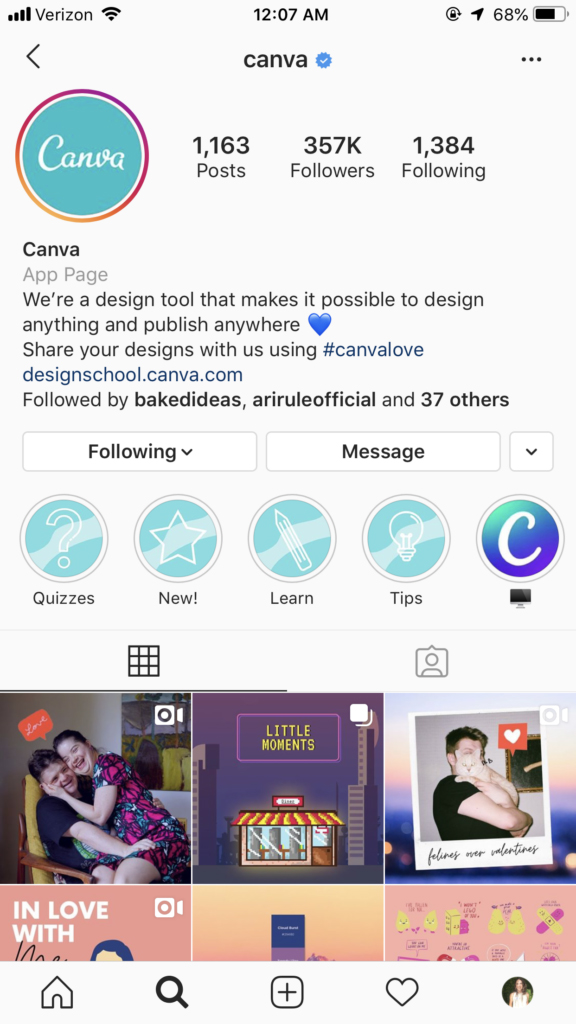 10. Change your bio's alignment
Stand out from the crowd and the rest of the justify-aligned accounts out there and center or right-align your content.
It's easy to do. Simply copy the spaces between the arrows, but not the arrows themselves: >>⠀⠀⠀⠀⠀⠀⠀⠀⠀<<
Then paste those spaces before each line of your bio. Add or remove spaces as necessary to perfectly center or right-align your bio.
11. Include keywords in your profile name
Place a couple of strategic industry keywords in your profile name (not necessarily your username) to help your account show up for even more results when people search for people in your industry.
Because Instagram users sometimes search by keyword rather than username, adding a keyword into your profile name increases your chances of being found.
For example, McCall's Pattern Company opted to use "Sewing Patterns" as their profile name.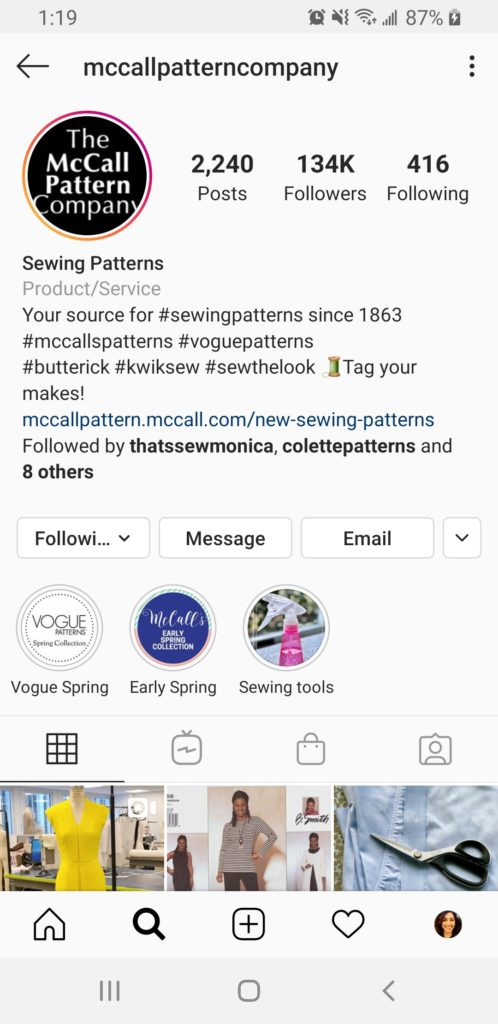 12. Use special fonts
You can actually incorporate fun and different fonts into your Instagram bio by using a website like LingoJam. Type up your Instagram bio and copy and paste your favorite font into your profile. Get creative, especially if your brand voice aligns with these font styles.
But, before filling your Instagram bio or captions with these special fonts or unicode characters, keep in mind that they are not accessibility-friendly for people who are using screen readers. Use sparingly or for decorations, but don't rely solely on these fun fonts, as you don't want to exclude fans and followers from accessing your content.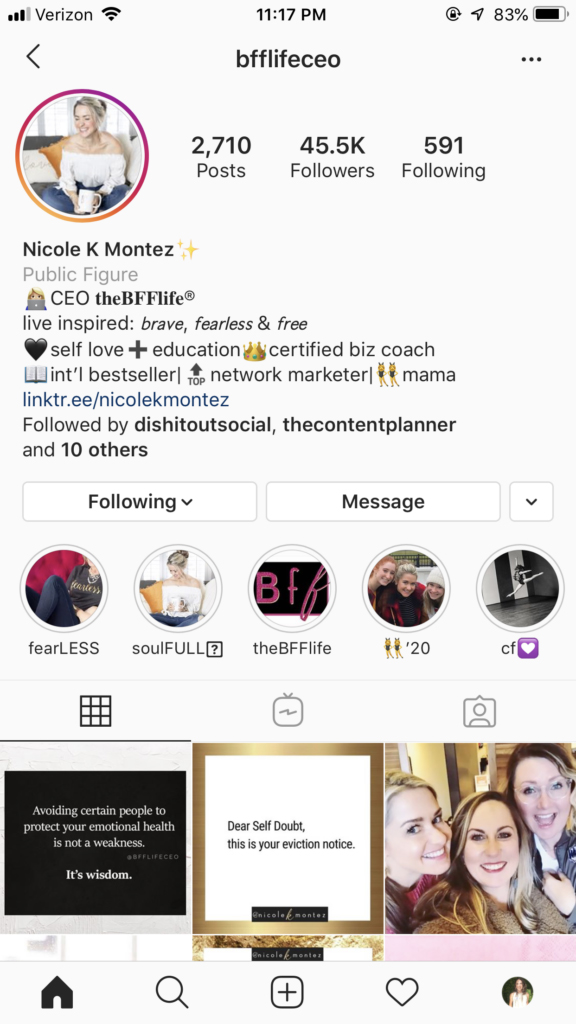 13. Add special characters
Take another step to create a unique and engaging Instagram bio by using special characters. While you could always just choose a few emojis from your smartphone's keyboard, why stop there?
Instead, you can use a free app like Character Pad on your smartphone or copy the symbols from Microsoft Word on desktop, then paste them right inside of your bio.
Again, keep in mind of your screen reader-using followers and fans, as we've pointed out in hack #12.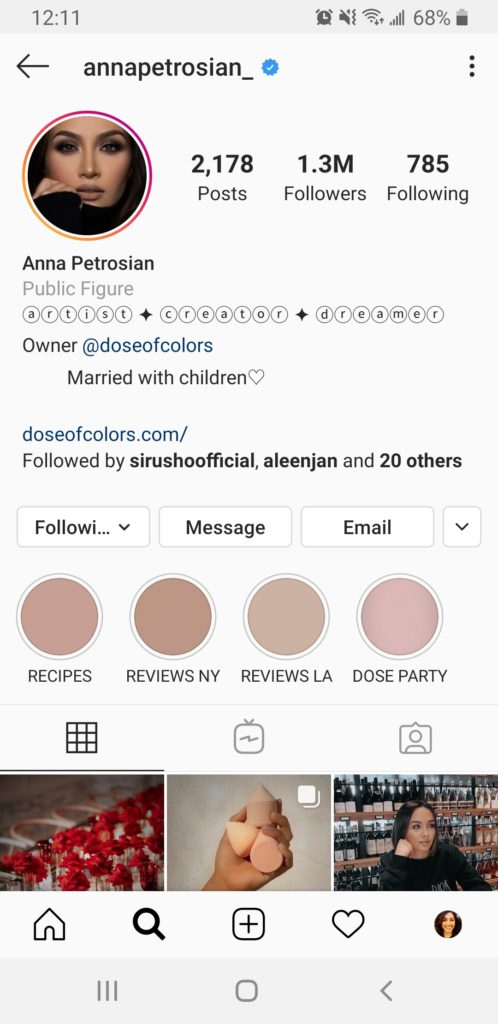 Instagram hacks for sharing content
14. Reorder your photo filters
Do you use a few filters in your Instagram feed, and get sick of scrolling to find the ones you want? You can reorder your filters to put your most-used filters at the beginning of the list. Or deselect the filters you don't use from the list completely.
When you're adding a new photo and the editing option appears, scroll to the end of the filters and click Manage. There, you can reorder the filters so that the ones you use most frequently appear first. Again, feel free to deselect any you don't use.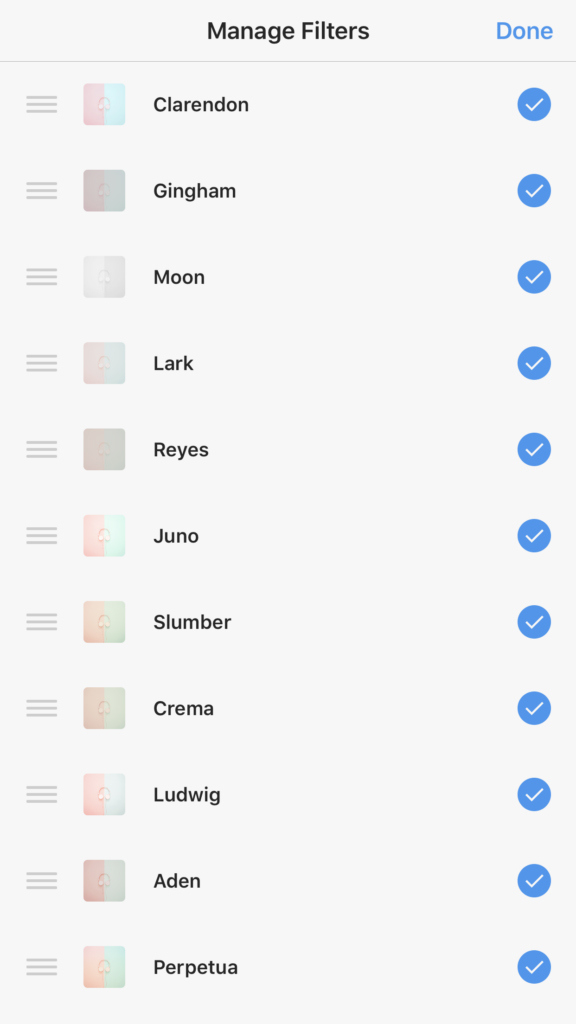 15. Customize how strong your filter is
If you love a filter, but don't want the full effect on your photo, it's easy to adjust its strength. Select the filter, then tap the magic pen icon at the top of the screen.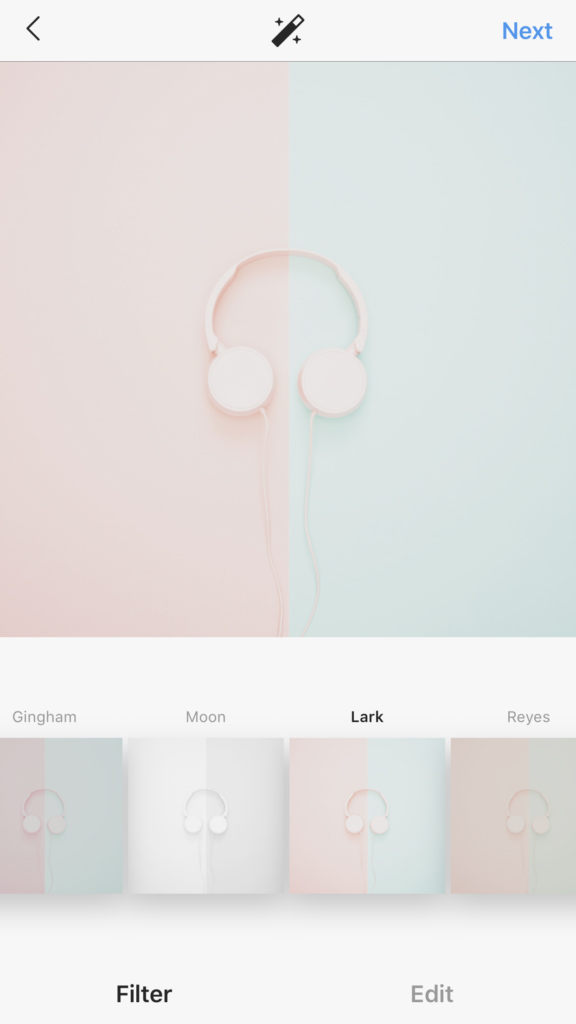 Then, adjust the filter strength on your photo by using the slider below the image. You'll preview the look and feel of your photo at the same time.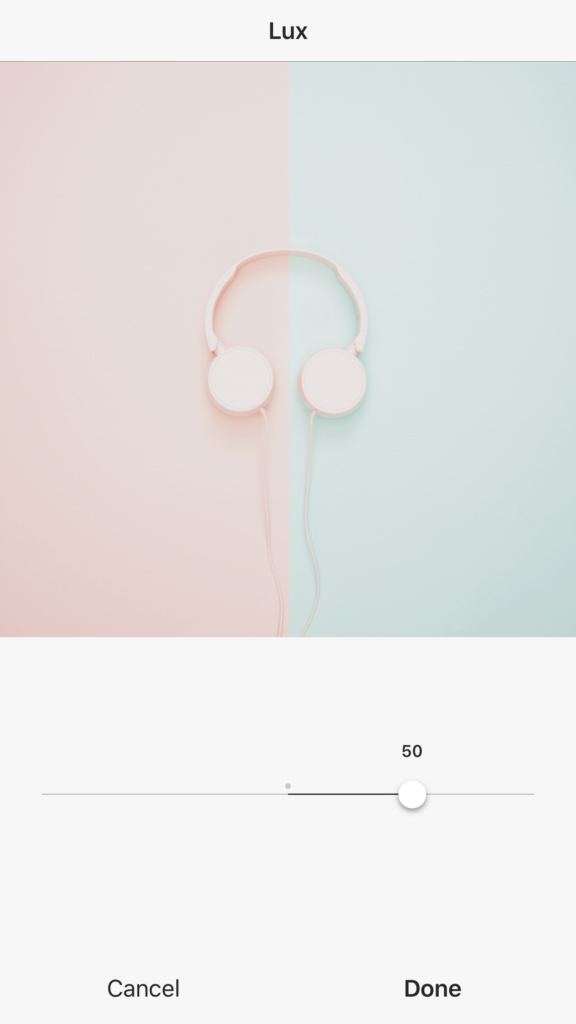 16. Get creative with your grid
There are so many ways to get creative with your Instagram grid.
Colorblock your grid by incorporating a main color into nine photos at a time before switching it up. You can create a pattern where every third photo is a quote or graphic. You can have each photo flow into the next to create a puzzle grid.
Check out our post with 18 top Instagram accounts to check out for inspiration.
17. Save drafts for later
Have you started editing a post, but aren't ready to publish it yet? You can save it as a draft to come back to later!
Tap the plus sign and choose the image you want to work with. Add filters or start writing your caption, then tap the back button a couple of times.
The app will alert you and ask if you want to discard your post or save it as a draft. Choose Save Draft to leave the app without losing your edits.
When you're ready to post it, tap the plus sign again, and all your drafts will be available at the top of your photo choices to finish publishing. You can also go back and delete your drafts by tapping Manage then Edit to remove the draft(s) you select.
18. Save your live video
Do you have an Instagram Live video you want to save and repurpose for later? It's incredibly easy to do. As soon as your live broadcast ends, simply hit Save in the top right corner then Done. The video will save directly to your camera roll for you to edit later.
19. Remove the audio from videos
Not every video needs audio, and not every video comes out with perfect or appropriate audio either. If you want to remove some background noise or your video doesn't necessarily need any audio, Instagram allows you to remove the audio in the app.
When uploading a video to share in your feed, tap the speaker icon at the top of the editing page to remove the sound, then publish.
20. Create a cover photo for your video
Want to choose the clip from your video that appears in your profile? You can easily add a cover photo by using a graphic design tool like Canva or Visme, then using an editing software to place the graphic at the beginning or end of your video.
When you're ready to share the video in Instagram, tap the Cover tab on the editing screen. This allows you to choose a clip from the video that you want to appear as a cover photo. Simply scroll to the beginning or end, wherever you added your graphic.
21. Turn your Instagram feed into an online shop
If you have an ecommerce business, Instagram shopping is a tool you definitely want to take advantage of. Share photos of products and tag them within each post, and you can effectively turn your Instagram feed into an online shop.
This is exactly what Dress Up has done in their feed. As you can see, each post with a shopping bag icon in the corner has products tagged, making it possible to purchase products directly from the post.
Since over 80% of Instagram users use the platform to discover, research and decide whether to buy a product, the shopping feature can help drive traffic to your site as well.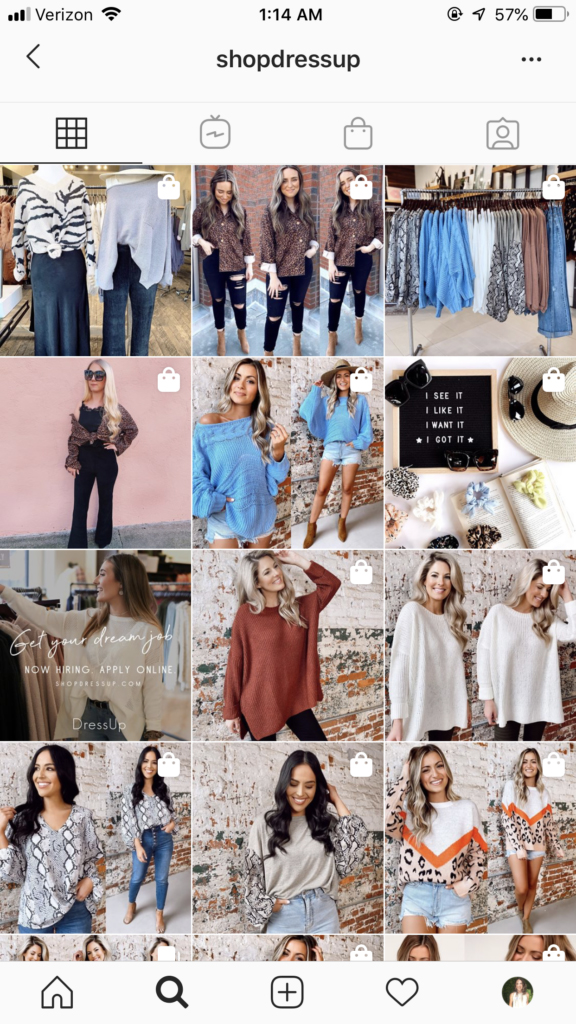 22. Schedule your Instagram content ahead of time
Make your Instagram management strategy as easy as possible by using a social media management platform such as Sprout Social to schedule your Instagram content ahead of time.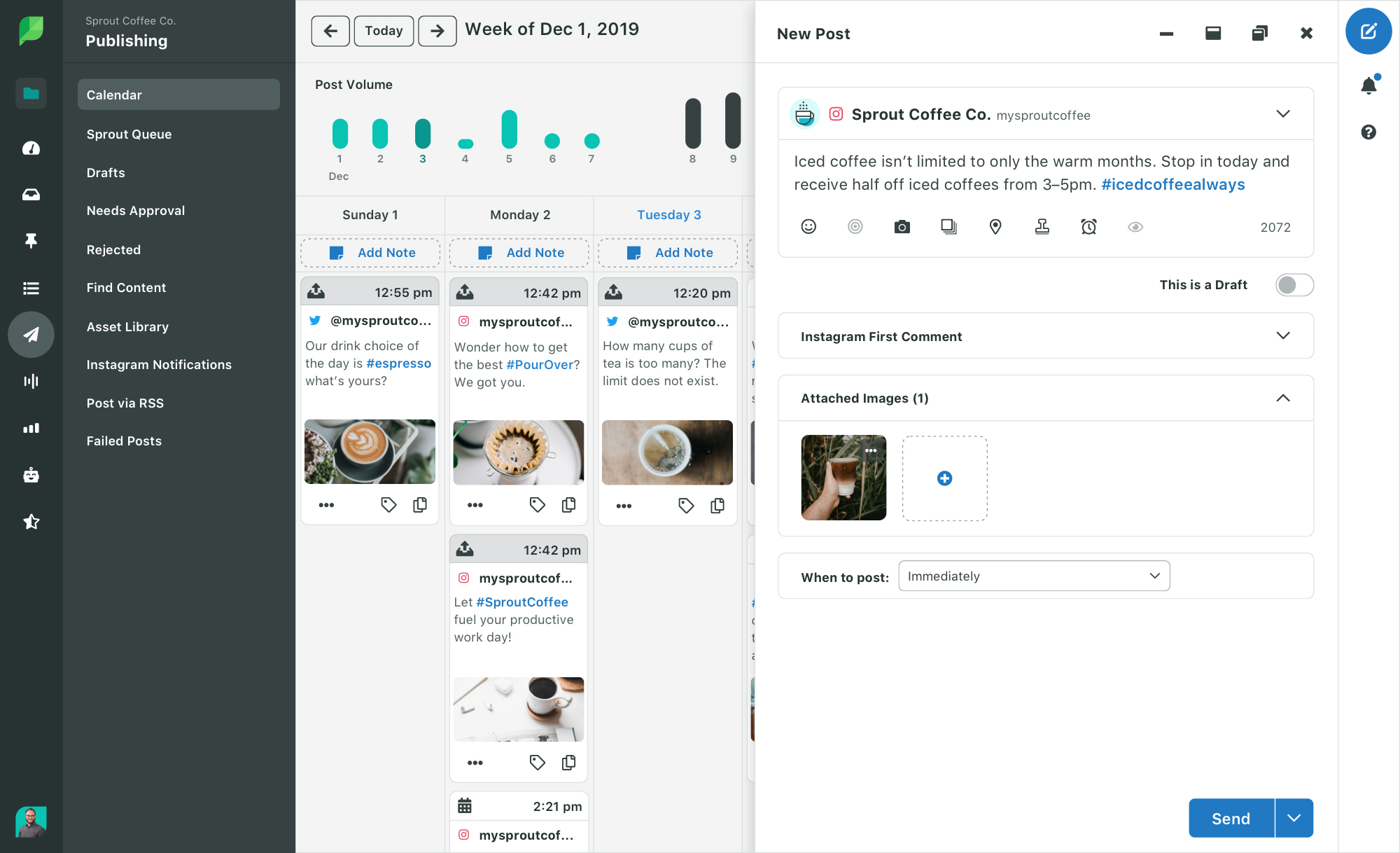 Instagram hacks for writing captions
23. Add line breaks to your captions
Just like adding line breaks to your bios, it can be a great idea to add line breaks to longer captions and break up a giant wall of text.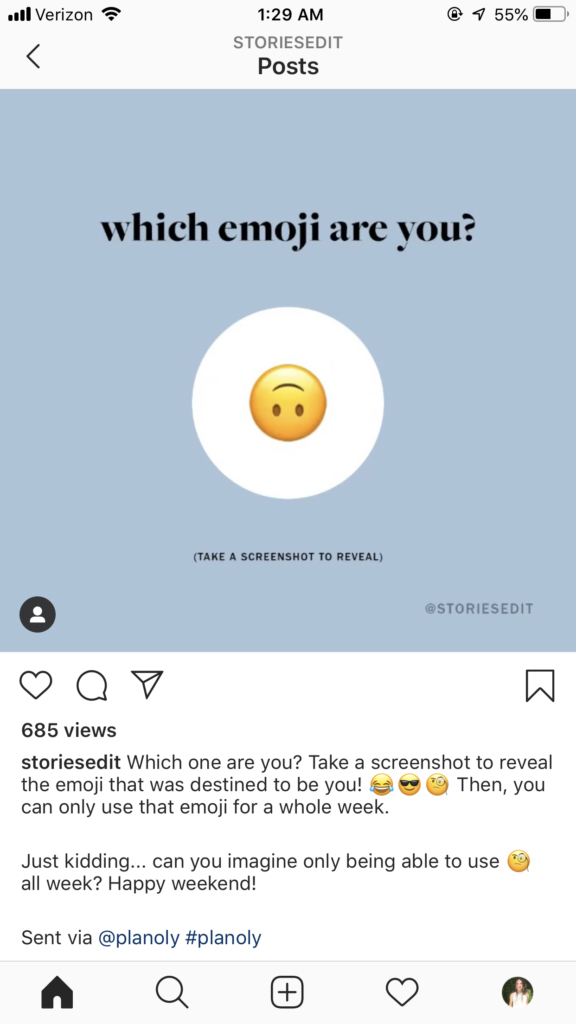 Again, simply create your caption in the notes app on your phone, then paste it into the caption box on Instagram. Alternatively, if you use a tool like Sprout Social to write your captions, you can just add the line breaks into that tool's caption box directly.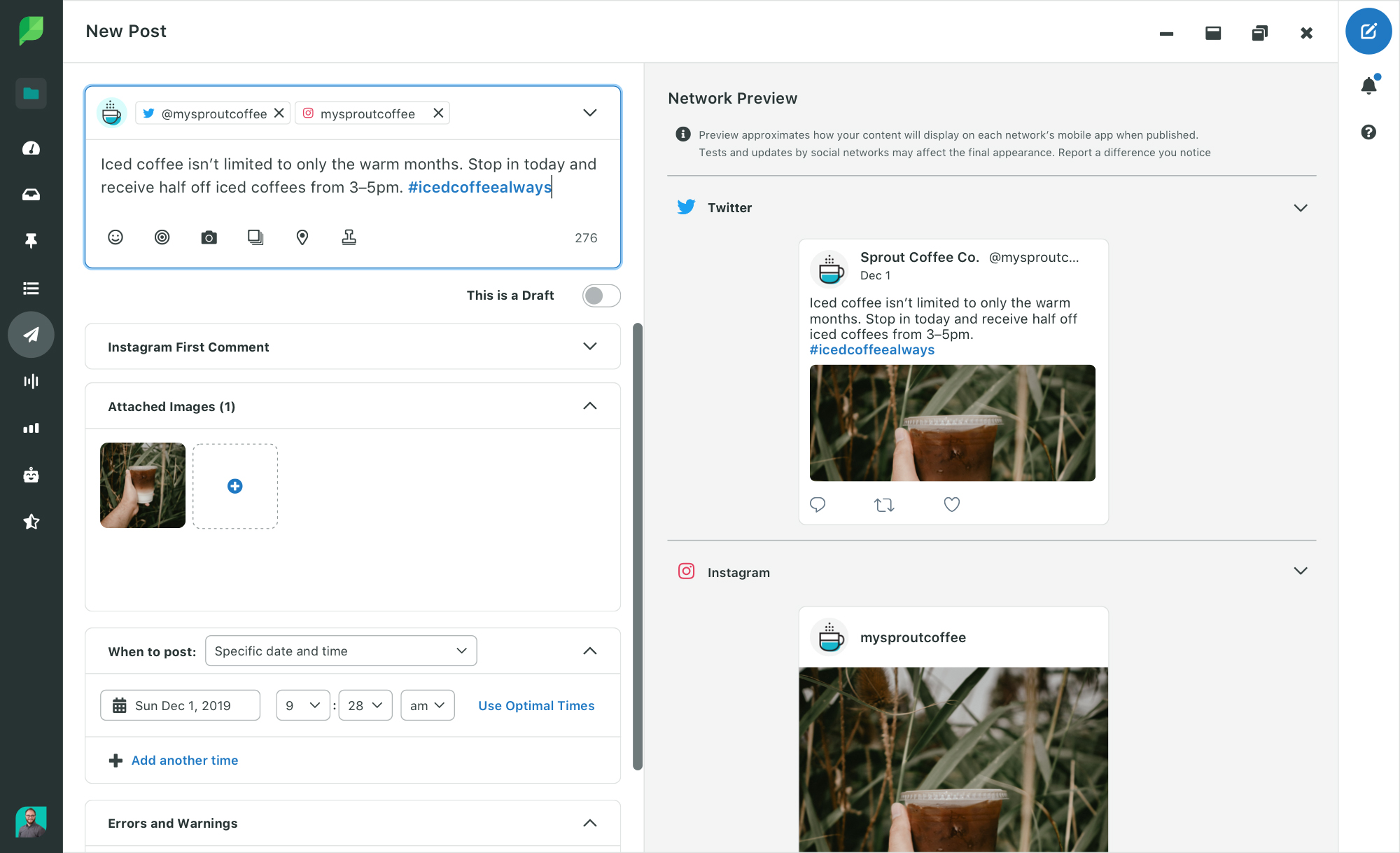 24. Hide your hashtags
Don't want your hashtags to appear at the top of your captions? There are little tricks you can do to hide them further down in your captions so that you can still promote your posts to a wider audience without spamming your followers.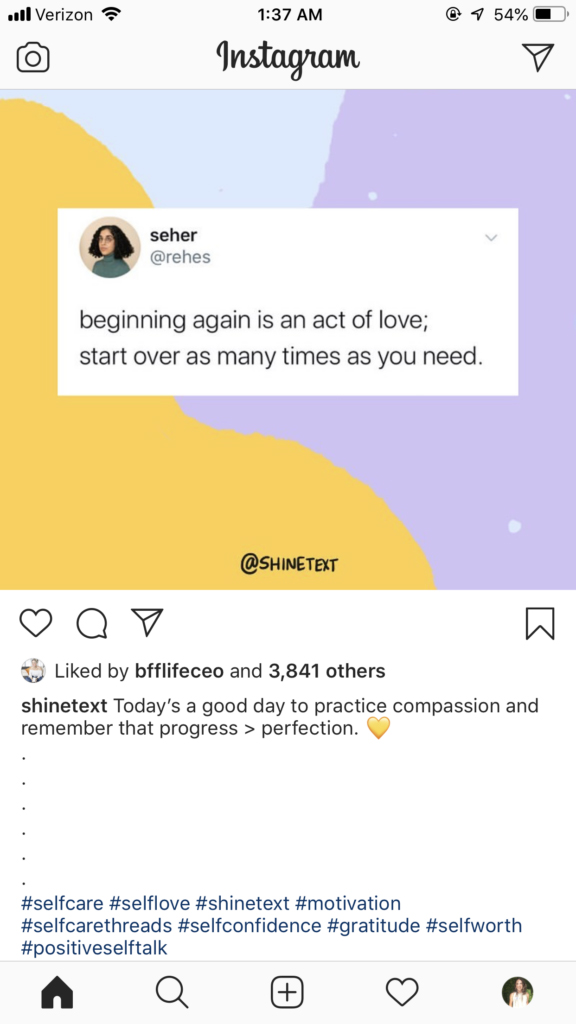 Take a page out of Shine Text's book and include several periods between your caption and your hashtags to put some space between them and push them down away from your photo.
You can also place your hashtags in a comment underneath your photo to keep them out of your caption entirely. With Sprout, you can post your image and first comment at the same time, so you have the opportunity to capture engagement from hashtags immediately and keeping your caption free of hashtags.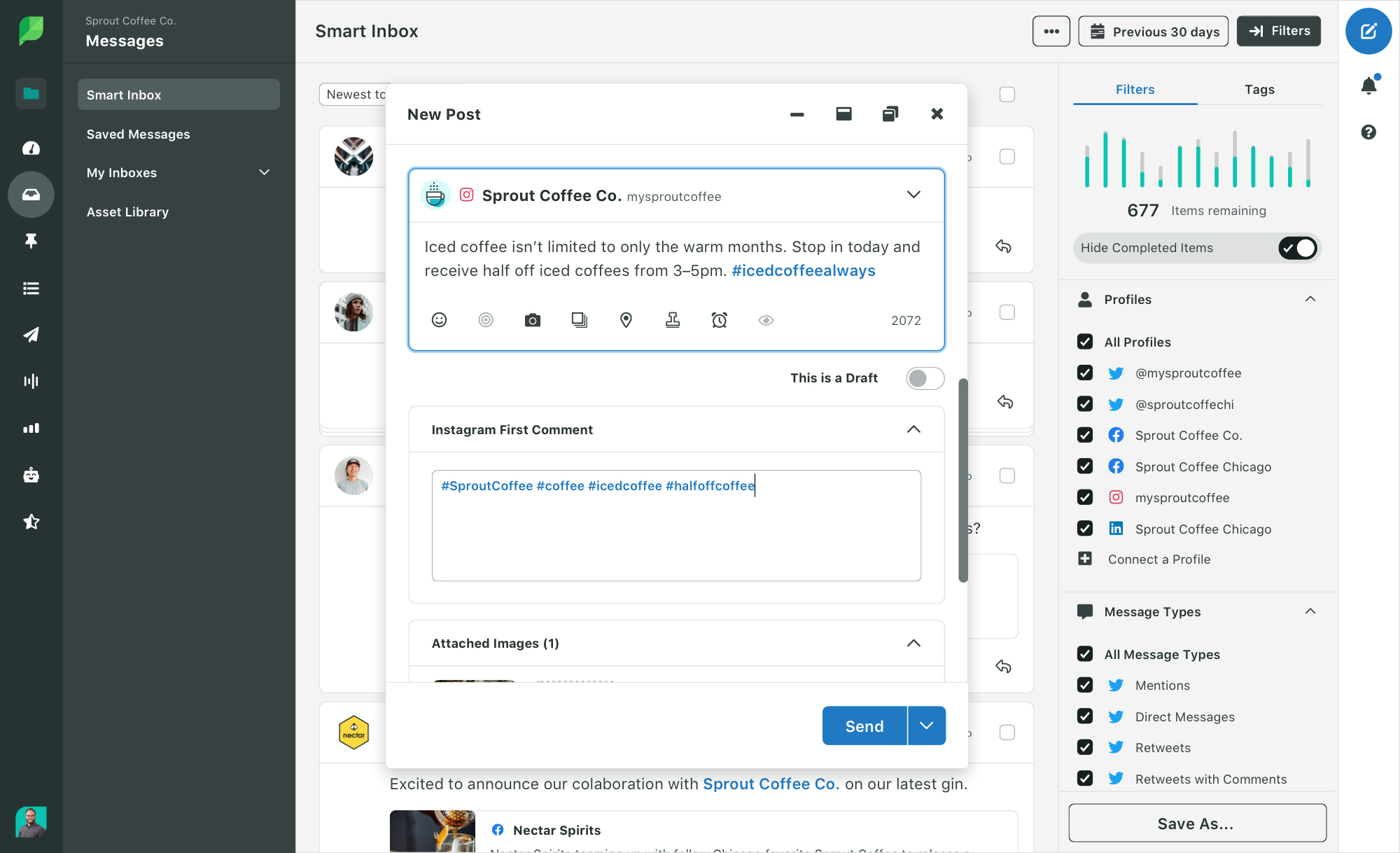 25. Use special fonts in your captions
Another great application of a previously mentioned Instagram hack is to use special fonts or characters to jazz up your actions. Incorporating special fonts into your captions can make them even more engaging than the regular Instagram font.
Again, use special fonts and characters sparingly in your captions so your content is accessible for your followers who use screen readers, as we pointed out in hack #12.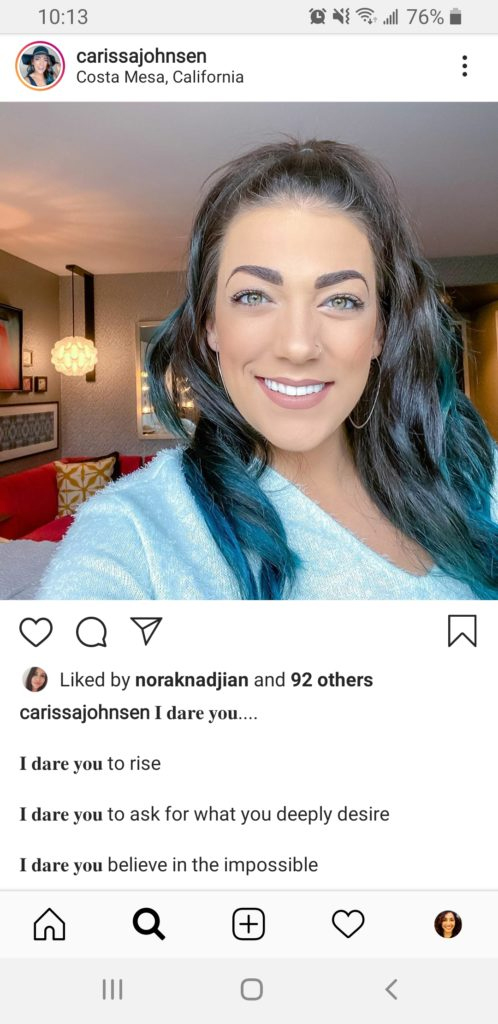 Instagram hacks for commenting
26. Filter comments based on keywords
If you're dealing with a social media troll, or you want to keep your social media feed clean of certain words for your audience, you're able to filter or block comments based on specific keywords.
Go to your profile and tap the hamburger menu before going to Settings.
From there, tap the Privacy option, then go to Comments and turn on the Manual Filter. This allows you to hide comments with specific words or phrases. You can choose your own words or phrases, or select the option to filter comments with the most reported words.
27. Turn off commenting on certain posts
Not every post needs a comment. If you want to turn off comments on certain posts, Instagram allows you to do just that.
When you're creating a new post and get to the page where you add your caption, tap Advanced Settings at the bottom of the screen, then toggle the Turn Off Commenting option.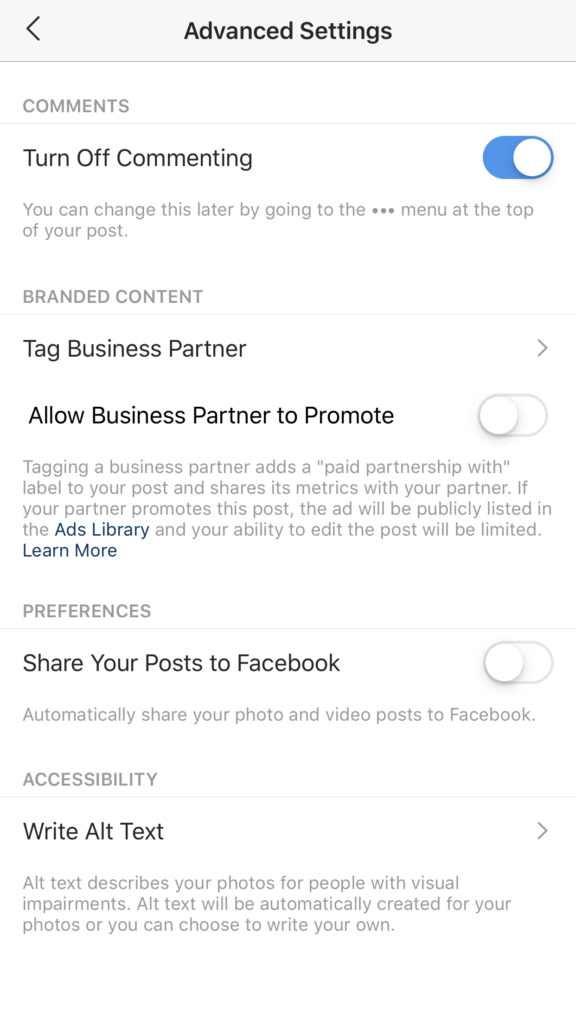 28. Reply faster to comments
Do you get a lot of the same questions on your posts? "When does this sale end?" or "When will this item be restocked?"
It's easy to set up quick-reply methods on your smartphone so that you can respond to each one as efficiently as possible.
iOS smartphone users can do this in their Instagram settings in General > Keyboard > Text Replacement.
There are already several options in place for autocorrects, but you can tap the plus sign in the top right corner to set up a few shortcuts for quick-responding to comments.
For example, you can create a shortcut where you type "HalloSale," and have autocorrect replace it with your brand's actual Halloween sale information.
Instagram story hacks
29. Change highlight covers without publishing them to your story
Previously, you had to publish new Instagram story highlight covers to your story in order to actually change your highlight covers.
But now, you can change your highlight covers straight from your camera roll.
Simply tap and hold the highlight you want to update, then tap Edit Highlight on the popup that appears. Tap Edit Cover then select the photo you want as your new highlight cover from your camera roll.
30. Create shapes with text
Instagram Stories has several different fonts, meaning you have several different ways to customize your story content. So play around with different symbols and fonts to create eye-catching captions to your Stories.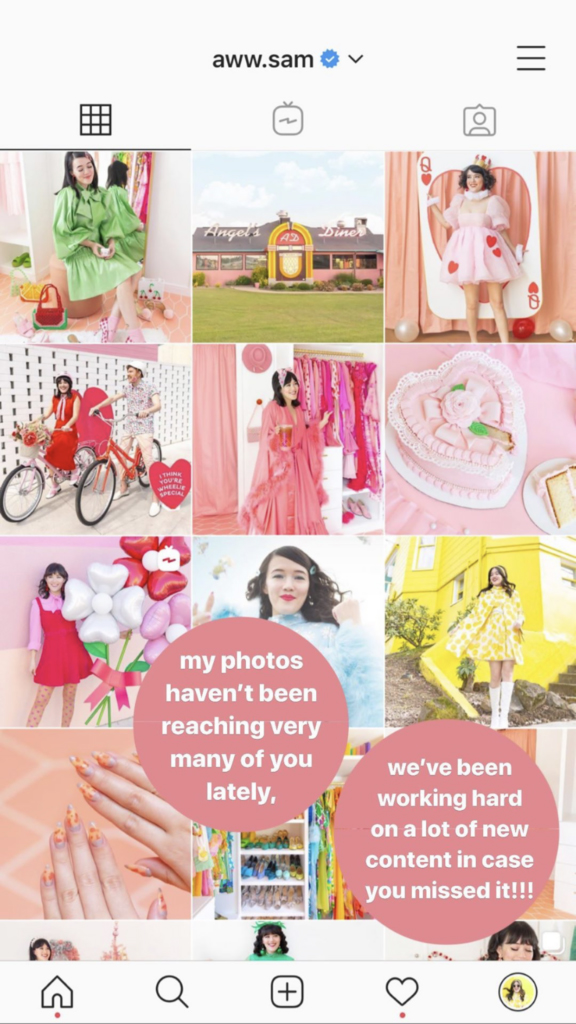 For example, the Instagram Story above uses enlarged periods in the Classic font as backdrops to these snippets of text. The asterisk in the Modern font can be used as stars or snowflakes, and 1's or lowercase l's can be blown up and turned sideways to create banners. Just be conscious of overdoing it with extra characters–similar to what we mentioned about special bio fonts in hack #12, screen readers may interpret these as individual text characters and create confusion for those relying on them to interpret your content.
31. Create ombré or rainbow text
Decorate your Instagram stories by creating ombré or rainbow text. This is a fun effect, but you need to practice it a few times because it can be hard to master.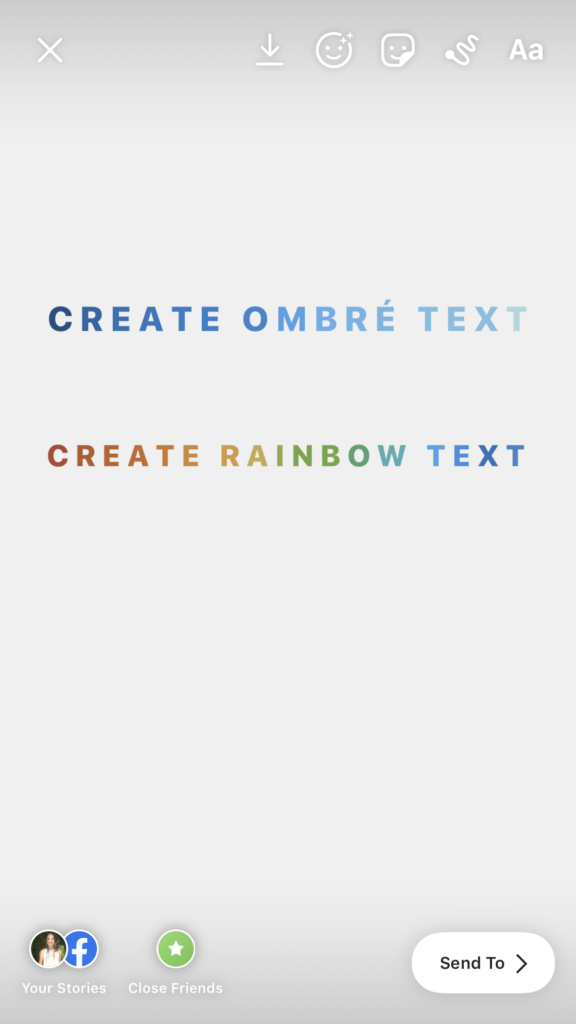 Once you write your text using the font of your choice, select all of it, or the words you want to ombré/rainbow. Then you need to use one finger to hold the words you've selected and the other finger to hold down on the color you want to start with.
Drag both fingers across the screen simultaneously, moving across the text and across the colors at the same time. You'll go from top to bottom or bottom to top to ombré the text with a single color and front one side to the other to create a rainbow effect.
You'll need to do this process slowly in order to master it and get your colors just right. Don't rush! The end effect is well worth it.
Ramp up your Instagram marketing
Use these Instagram hacks to improve your Instagram marketing and start trying out some new tips and tricks.