Want to start an ecommerce business? Compared to the traditional brick-and-mortar model, online trading may be an unknown field where everything that you can gain and lose is unclear. So, what to expect? Let's look through the advantages and disadvantages of ecommerce together and figure it out.
What is ecommerce?
E commerce is the activity of buying and selling goods or services online. It has emerged only recently, but there is already an established concept of ecommerce and its benefits for conducting business are internationally acknowledged. At the moment, it works as a form of retail that can provide various capabilities to small, middle and large scale businesses, individuals and freelancers. It includes but not limited to:
Online sales of physical goods and digital products
Online sales of intangible digital products
Intellectual property
Digital services
Real-time auctions
Tickets' sales
Utility bills payments
E-banking
Online marketplaces
These capabilities surpass those available in traditional brick-and-mortar retail. With all the diversity and benefits, there is no surprise that over the last years, ecommerce business globally has enjoyed steady and substantial growth. This tendency is not going to change – ecommerce is expected to keep growing, reaching $4.2 trillion in global sales by the end of 2020 according to Statista.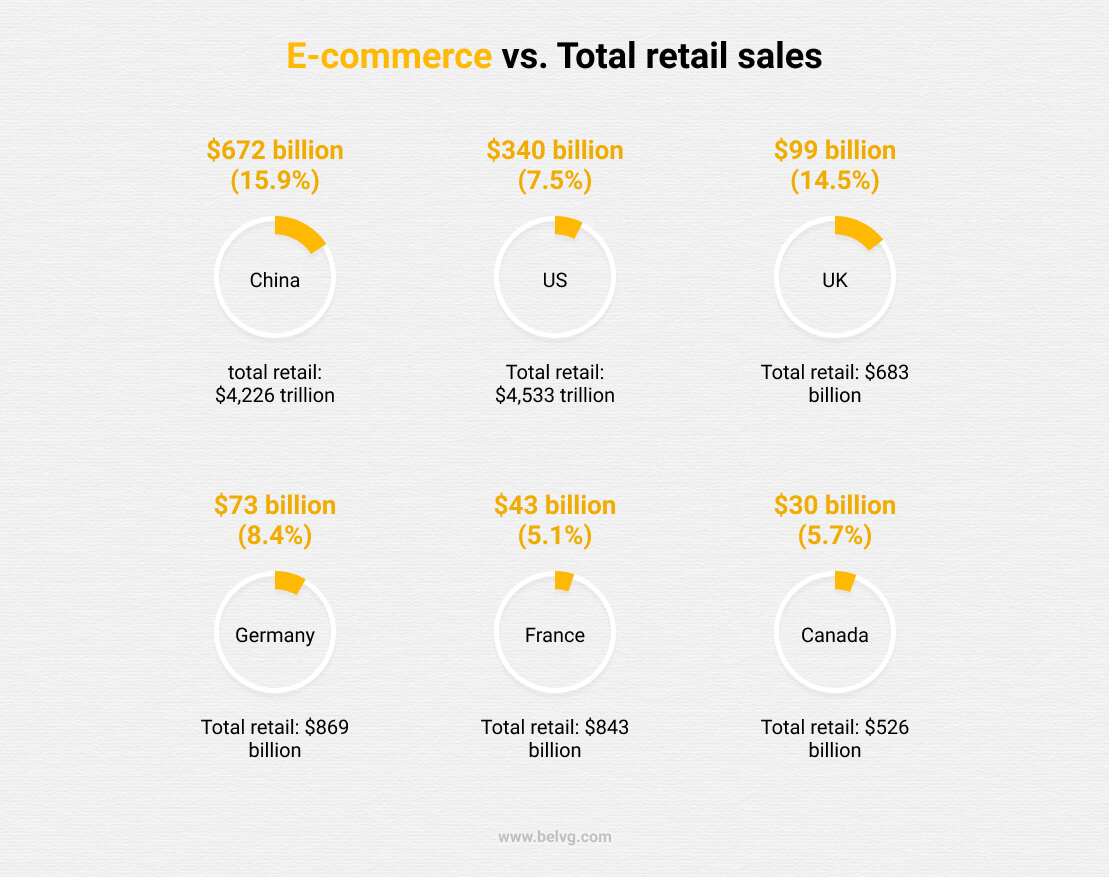 As you see, ecommerce does not stand still and keeps taking up the share of traditional retail. Throughout the ecommerce history, there were many markets and companies that crashed or went bankrupt due to their inability to confront the online business. While others adjusted to the changes and now grow as a multichannel or omnichannel business. Let's see how ecommerce has changed the global market.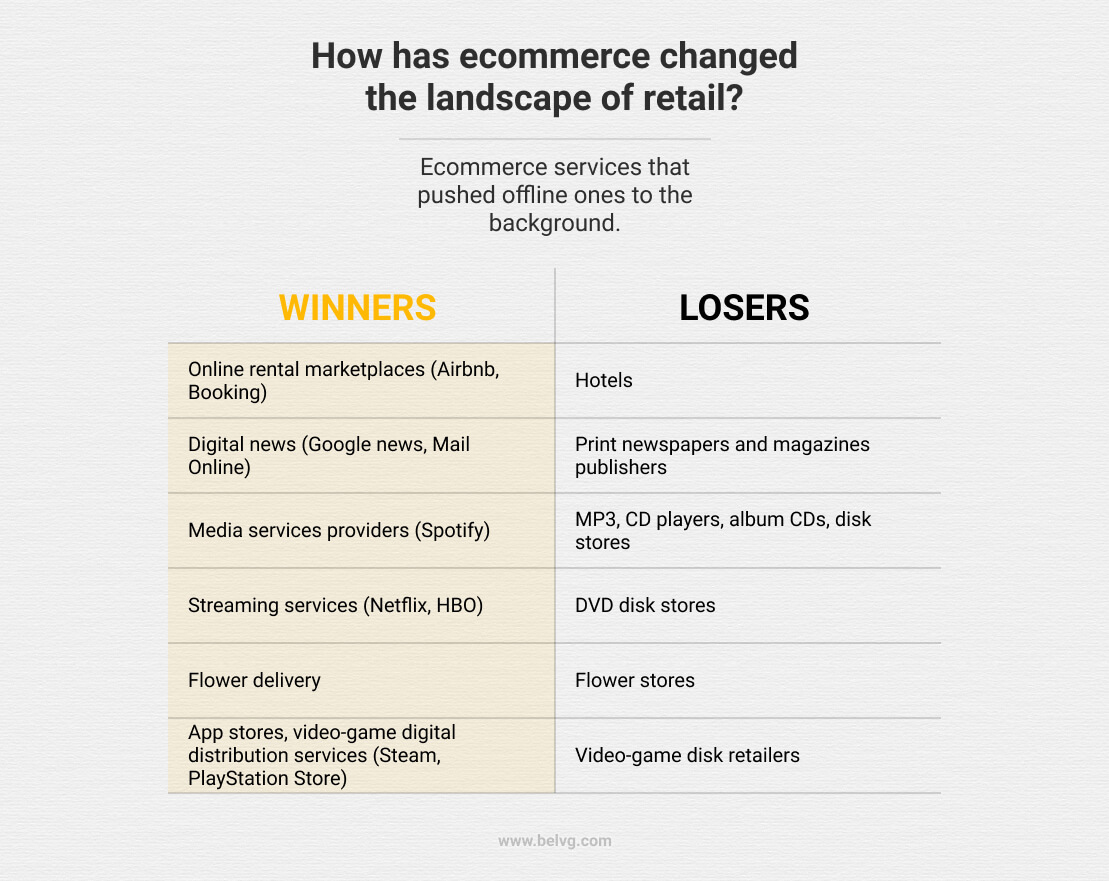 A good example of ecommerce influence on the trading is the app development industry. 15 years ago physical stores were loaded with various disks with games, applications and movies. But the digital breakthrough made it possible to provide apps and movies online. It gave birth to such well-known platforms as Steam, Google Play Store, Apple Store, Netflix and more. As a result, you are unlikely to find a CD disk with Half-Life:Alyx or DOOM Eternal on the shelves of brick-and-mortars. Ecommerce made disks useless.
The same situation takes place with newspapers and magazines. You remember that just about 15 years ago almost everyone reading newspapers or print books every time on the way home, during lunch or breakfast to find out what was going on around. But today's situation has changed and you can hardly find a store with newspapers. Everyone has a smartphone with the latest news and they don't need to spend time looking for printed copy. It also became possible thanks to ecommerce and nearly killed the print news industry. So, the top magazines and newspapers like Forbes, the New York Times, Bild, Vogue and others run their websites and make money on subscriptions.
Ecommerce is not going to stop. It is expected that in the future book stores will go bankrupt due to media libraries. They already exist, but the tendencies show that printed books are still highly popular among customers. According to statistics, 37% of readers prefer only printed books and 9% read only e-books.
But there is no guarantee that situations won't change in the future. It can happen not only cause to the influence of ecommerce but also out of the reforestation motives. So great benefits of ecommerce for the planet.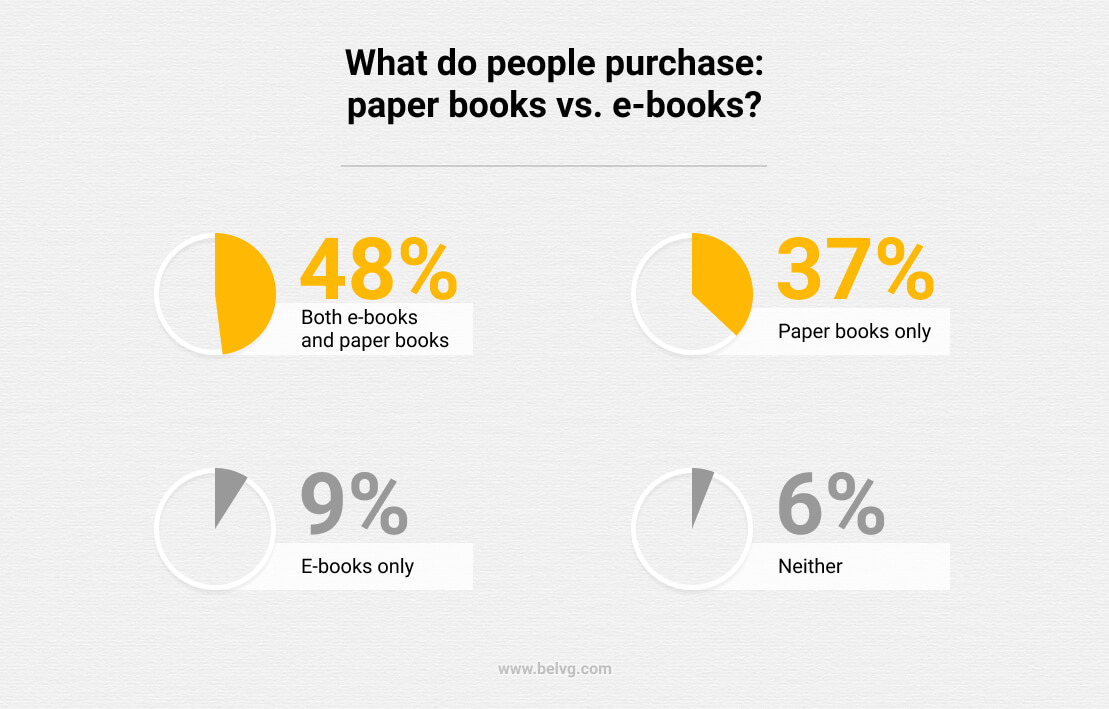 All this might be enough for an entrepreneur to consider starting an ecommerce business. Although the e-commerce pluses for both customers and business owners are evident, it's still unwise to get into the undiscovered and unresearched activity. We all know that any field, even the seemingly perfect one, still has its own minuses. Therefore, instead of leaping into action, it is better to study both advantages and disadvantages of e commerce and only then make a well-weighted decision.
Want to learn about the pros and cons of e commerce and how they can affect an online business? Let's look through the ecommerce advantages and disadvantages.
What are the advantages of ecommerce?
What are the main advantages of doing business online? How do they impact customer shopping experience? Is ecommerce actually worth giving a try? We decided to consider all of these questions in detail and prove why these ecommerce benefits do make sense.
Advantage #1: Ecommerce saves time for a customer
Online shopping speeds up receiving a desired product and saves customers' time and efforts. Imagine you need a particular product. If you choose to purchase it online, using only a laptop and a credit card, you spend no time reaching the brick-and-mortar store. Moreover, instead of walking from store to store looking for an item, you can immediately check whether it's available at the store or not.
Making a purchase at an online store is a pleasant process with no no need to stay in queues. Another ecommerce advantage is that you can make purchases wherever you are, even on the way home or to the office using just your phone. And remember that your purchases will be delivered. So, there is no need to carry all of them on your way home which may be especially difficult if you purchase furniture or heavy equipment. All of these are great benefits of e-commerce for people who value their time.
Advantage #2: Detailed product information
What amount of information about an item can a physical store provide customers with? Definitely not much. Customers decide whether to buy a product or not based on packaging and brief description provided by the producer. But shopping online, you get a more detailed product description with macro photos, tutorials, unboxing videos and the list of many related products. Moreover, online shopping is a perfect opportunity to read product reviews written by other customers. All this information makes a great contribution to a more conscious "to buy or not to buy" decision. It is one of the best advantages of ecommerce and doing business online.
Advantage #3: Personalize the shopping experience
Running a brick-and-mortar store, you cannot make all your products or store pleasing to every eye. A digital store, however, offers much more extensive personalization capabilities – a wonderful ecommerce advantage for creative marketing specialists.
With the help of cookies you can collect the information about a customer and then get a clear understanding of who they are: gender, age, interests, what kinds of advertisements they better respond to and much more. Using this data, you can configure the store to automatically offer customers the products they are most likely to be interested in. The product will be similar to those they have already purchased or from their wishlist. You can also customize the store design and a welcome message. Such a great advantage of ecommerce, right?
Advantage #4: You can retarget the customers
It often happens at brick-and-mortars that even these customers who are genuinely interested in the item leave the store without purchasing it. Especially if its price is high. It happens because many people need time to think over the purchase and only then make a decision. But a lot of them may forget about it by the end of the day. Unfortunately, there is no chance you can remind them of this item and how great it is. Online, you can do it.
Retargeting is an advertisement technology that shows the product ads on web pages that the customer viewed at your online store before. It helps to unobtrusively remind customers of the product they used to like and perhaps still desire, urging them to come back to your store and reconsider. There is no doubt that it is one of the greatest ecommerce benefits.
Advantage #5: Retail with no geographical or time limits
Location of a brick-and-mortar store significantly restricts the trade opportunities of its owner. While in ecommerce, you have no limits in what countries to sell, everything depends on your intentions and resources. Running an online store, you can extend your market and customer base without renting an extra office somewhere. And thanks to improved logistics and delivery technologies, worldwide shipping will be a mission possible. Payment, in its turn, can be performed even without a credit card. Online payment gateways such as Apple Pay, PayPal and others are a modern solution for international online shopping. Yes, we can't deny that online payments have their own pros and cons but they are a topic for a whole separate article.
What is more, the working hours of a physical shop are restricted to 8-10 hours per day. And customers can try to access the store any time while it may be closed. But an online store is not only open 24/7, it also accepts orders around the clock. This is among the benefits of e-commerce for night owls and people too busy to shop during the day.
Advantage #6: Lower costs of store maintenance
Running a brick-and-mortar store is a rather expensive activity. Just think about the cost that you will have to bear: rent of the facility, the utility bills, insurance, warehouse maintenance and salary for your staff. On top of that, you should keep in mind a high number of operational costs like repair service bills, employee training, advertising costs and so on. With an ecommerce website, you do not need to pay for a physical location. You also will require fewer staff members; if your store is small, you can even run it yourself.
Advantage #7: More affordable and effective marketing
Promoting a physical store, you use a set of traditional marketing practices. They include means of mass communication like print, radio, TV commercials, direct mail and telephone. Traditional marketing means and strategies used to be effective in a time when there were no advanced digital technologies. At the moment, these types of product promotion offer little interaction with the audience and yield poor conversion ratio.
Ecommerce works with the more advanced level of marketing technologies – digital marketing. The pros of digital marketing are its broader scope of operation and bigger number of activities that it includes: content marketing, SEO, affiliate marketing, email marketing, pay-per-click and social media marketing. Each of them uses the Internet as the media, which makes these activities less expensive and provides great global marketing advantages. Moreover, it directly interacts with numerous people who use social networks non-stop. The disadvantages of online marketing are high price of the service and the need for specific expertise to set it up.
Advantage #8: Automation minimizes human error
The majority of store operations are integrated into your ecommerce platform and set up to perform automatically. It is really great as it diminishes the probability of a mistake like a misplaced order or an incorrectly charged bill. Moreover, there are no consultants at an online store (at least, not physically present). And there is something good about it as they won't confuse or downright your customers creating a negative reputation. We do not recommend leaving your customers completely unsupported. But ecommerce has a solution – create an FAQ page and use virtual assistance.
Advantage #9: Ability to handle multiple purchases
How many customers can a store serve at the same time? Three on average, maximum five (excluding supermarkets). There is no limit on the number of orders that can be placed, processed and paid simultaneously at an online store. What is more, customers don't need to wait in a queue to make their purchase, which is a great ecommerce advantage for impatient people.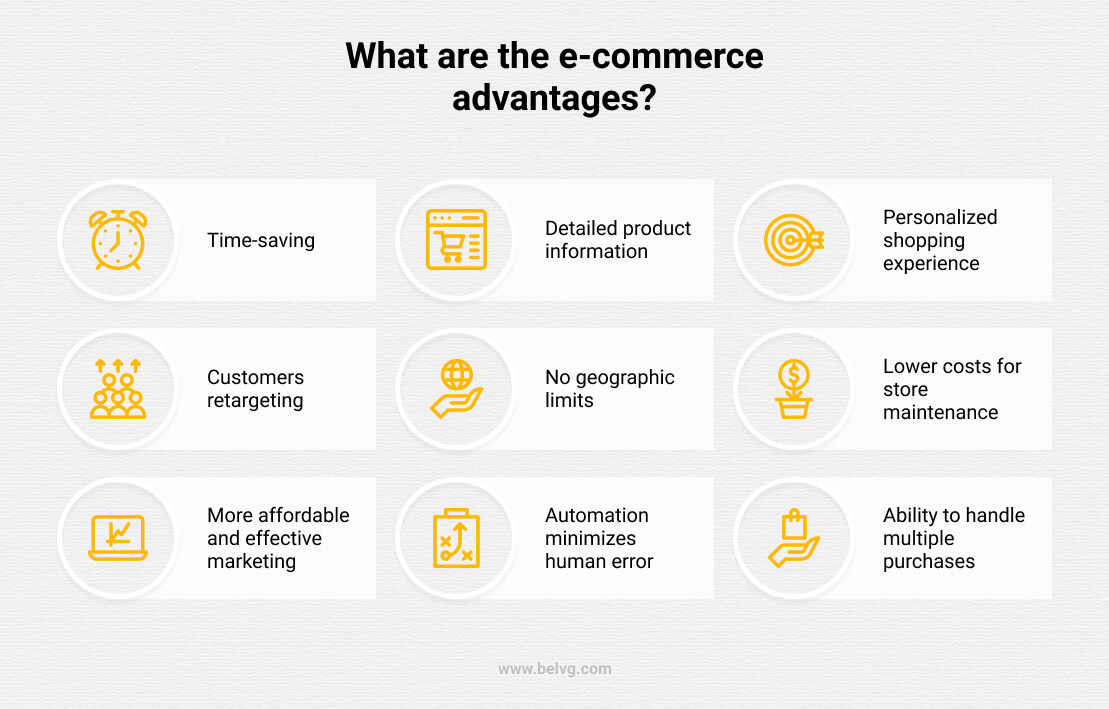 What are the disadvantages of e-commerce?
Apart from numerous advantages, there are certain disadvantages that make ecommerce not suitable for every one or any kind of business. Let's explore them in detail and try to figure out if they are significant enough to stop you from starting an online business.
Disadvantage #1: Uncertainty about the product quality
Online stores provide detailed product description but customers at any way cannot see or feel the item before purchasing. As a result, they can not make sure whether the description lies or not. Here the main role plays the store reputation and positive reviews in customers' decision. However, many customers may remain unconvinced and opt against making a "risky" purchase. If a customer receives a product that doesn't meet the expectation, it totally ruins shopping experience and appears to be among the top disadvantages of ebusiness.
Disadvantage #2: Waiting for a product to be delivered
Shipping is a headache for both store owners and customers. When you decide running an ecommerce business, you need to devise the delivery logistics, find the carriers, make sure that the products will be delivered correctly and on time and deal with all sorts of delays and complications. But the payment for a product you get only when it is delivered, which is a discouraging factor. In the worst scenario, the purchase might never be delivered, either lost in the mail or sent to the wrong address. These complications pose a significant disadvantage of e commerce.
Disadvantage #3: Some items are hard to purchase online
You can't deny that almost all kinds of products can be sold online. However, there are certain limits of ecommerce capabilities – products which are difficult to select correctly or make sure they will suit you. Among such products are high-heels, prom dresses, some other types of clothing, luxury items and others. The most progressive retailers successfully implement Augmented Reality technologies to their webstores. But this is still a very rare practice. Another type of products which are unpopular in online retail are the ones that need a related service to accompany their purchase, like a roof luggage rack for a car.
Disadvantage #4: Complex taxation guidelines
As a store owner, you may be most willing to sell your products worldwide. However, it means you need to comply with the taxation guidelines adopted in each country where you aim to deliver. Apart from the effort to study them all and make sure you can comply with them, you will need to deal with the question of cost-effectiveness for your enterprise. It should become one of your most important considerations among ecommerce advantages and disadvantages.
Disadvantage #5: Compulsory registration
Sometimes a customer needs to register at the website to complete an order. And the problem here is that many people do not want to register. Due to the increased frequency of hacker attacks, it is understandable why some customers are reluctant to submit their name, last name, address, email address and other private data to an online store. Also, there are those who make purchases in a hurry and do not want to spend time for a rather lengthy process of registration.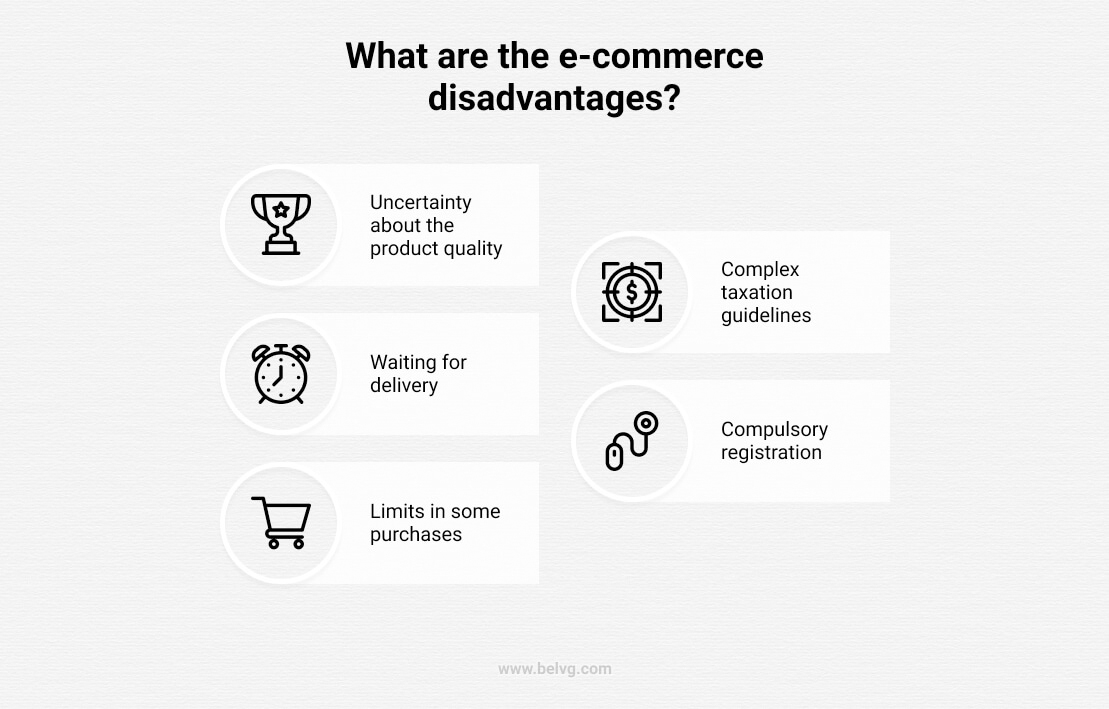 Wrapping it up
As you have studied our detailed list of advantages and disadvantages of e-commerce, we believe you will be able to decide whether to start an online business or not. And if you make a positive decision, BelVG is here to provide you high-quality ecommerce development services. We have been on the market for years and can be a reliable partner to build your online success.
Source: https://belvg.com/blog/what-is-advantage-and-disadvantage-of-e-commerce.html